9:20pm: The Lakers have "no current plans" to fire Vogel, sources tell Brad Turner and Dan Woike of the Los Angeles Times. This response certainly reads less like an emphatic denial of the rumor that Vogel is on the hot seat for Los Angeles, and rather a half-hearted vote of confidence.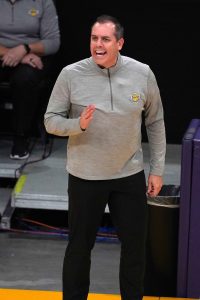 Turner and Woike reveal that Los Angeles GM Rob Pelinka and Rambis spoke with Vogel and assistant coach David Fizdale following the team's 125-116 loss to the Kings last Wednesday about figuring out how to improve the team's on-court results, their third such meeting recently.
Rambis subsequently attended a Lakers pregame coaches meeting this past Monday for the first time this season and pushed for reinserting traditional centers Dwight Howard and DeAndre Jordan into the team's rotation, despite both players not inspiring much confidence in their play to this point in the 2021/22 season.
---
8:40am: Frank Vogel was coaching for his job on Monday vs. Utah, according to Bill Oram and Sam Amick of The Athletic, who hear from sources that there's a real chance the Lakers' head coach would've been let go if the team's losing streak had extended to four games last night.
Oram and Amick report that Vogel "narrowly avoided being fired" after the Lakers' 37-point loss to Denver on Saturday and that he continues to be evaluated on a game-to-game basis, meaning he'll likely remain firmly on the hot seat going forward. It's not clear to what extent Monday's victory relieved the pressure on him, The Athletic's duo writes.
The Lakers' decision-makers are keeping a close eye on the situation and monitoring whether Vogel still has "command of the locker room," per Oram and Amick.
Vogel has been under pressure for much of 2021/22 campaign, with Lakers executive Kurt Rambis informing the coaching staff in the fall that there was a mandate to right the ship after an underwhelming start to the season, sources tell The Athletic.
Shortly after Rambis conveyed the front office's message, Vogel entered the health and safety protocols and missed six games. The Lakers went 1-5 under David Fizdale and then won four straight games when Vogel returned, which seemed to bode well for his job security. However, that streak was followed by three consecutive losses, including Saturday's embarrassing blowout in Denver.
The Lakers, projected in the preseason as the favorites to come out of the West, currently have a 22-22 record and are in play-in territory at No. 7 in the conference.
Los Angeles has had to deal with a series of injuries that have hindered the team's forward momentum. LeBron James has missed 11 games; Anthony Davis has been unavailable for 17 games and hasn't played since December 17; and Kendrick Nunn, who got most of the team's taxpayer mid-level exception in the summer, has yet to make his debut.
If the Lakers continue to fall short of their expectations, Vogel would be a convenient scapegoat. Despite leading the franchise to a championship in 2020, he had just one year tacked onto his current contract when he signed an extension in the offseason, so he's only locked up through the 2022/23 season.