5:10pm: Williams will undergo surgery on his injured knee, coach Ime Ukoda told Jared Weiss of The Athletic (Twitter link) and other media members. Williams will explore surgical options this week.
---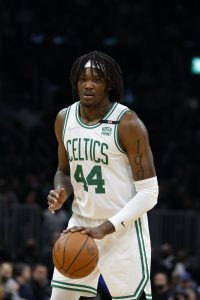 12:19pm: The Celtics have officially confirmed that Williams has a torn lateral meniscus in his left knee, announcing in a press release that they'll provide an update later this week on his treatment and recovery.
---
10:51am: Celtics big man Robert Williams, who underwent further testing on his injured left knee today, has suffered a meniscus tear and will miss, at minimum, several weeks, according to ESPN's Adrian Wojnarowski (via Twitter).
Shams Charania of The Athletic (Twitter link) was the first to report the team's fear that Williams had torn the meniscus in his left knee. The 24-year-old sustained the injury on Sunday.
The treatment plan and recovery timeline for a meniscus tear varies from player to player, since the injury can be treated both surgically and non-surgically, depending on the severity — some players who suffer the injury are only sidelined for weeks, while others miss months. According to Wojnarowski, further evaluation on Williams today will help determine how long he'll be sidelined.
With just two weeks left in the regular season, it's possible we won't see Williams again in 2021/22, especially if Boston doesn't win a playoff series or two.
It's a brutal turn of events for Williams and for the Celtics, who have looked like the Eastern Conference's best team over the last couple months, winning 24 of their last 28 games.
The Celtics currently hold the No. 1 seed in the East and Williams has played a major role in their recent success, anchoring the NBA's top-ranked defense and nearly averaging a double-double, with 10.0 PPG and 9.6 RPG on the season. He has shot an eye-popping 73.6% from the floor and emerged as a strong candidate for an All-Defensive nod.
With Williams sidelined, Boston will lean more heavily on Al Horford, Daniel Theis, and Grant Williams in the frontcourt. The team is signing forward Juwan Morgan to a 10-day contract using its open roster spot, but that deal will expire before the season ends, so that 15th spot could be used next week on a big man, if necessary.
Williams, who signed a rookie scale extension with the Celtics last fall, will be under contract for four years and $48MM (with another $6MM in incentives), beginning in 2022/23.