Warriors center James Wiseman will miss the remainder of the season as he continues to rehab his right knee, according to ESPN's Adrian Wojnarowski.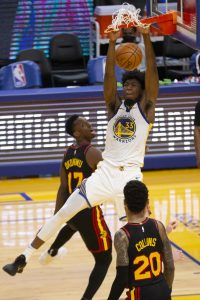 Wiseman, the No. 2 overall pick of the 2020 draft, will end up missing the entire season, including the playoffs, as he has yet to play a game at the NBA level in 2021/22.
He suffered a torn right meniscus last April and had the injury surgically repaired, then had a second, more minor surgery in December to address persistent swelling in the same knee.
He'd progressed to the point that he was able to play in three G League games with the team's affiliate in Santa Cruz before being recalled to practice with Golden State last week, but unfortunately suffered another setback just as he was nearing a potential return.
The Warriors' PR department sent out a tweet confirming the news that Wiseman will miss the rest of the season.
"We've maintained throughout his entire rehabilitation process that we're going to be patient and look out for James' best interests in what we anticipate to be a long and successful career," said president of basketball operations Bob Myers. "As a 20-year-old, his entire career is ahead of him. For us, as an organization, our focus is on James' long-term health and we're confident — and our doctors are confident — that this long-term approach will help James become the player he will evolve into when he returns to the court."
There are no additional plans for surgery and Wiseman will remain in the Bay Area to rehab his knee, the team said.
In 39 games as a rookie last season, Wiseman averaged 11.5 points and 5.8 rebounds in 21.4 minutes per game. The Warriors are currently 48-25, the No. 3 seed in the West.