2:45pm: The Nuggets have put out a press release officially confirming Malone's extension.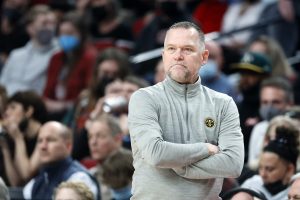 "This extension is well deserved for Coach Malone and one we are very excited to announce," team owner Stan Kroenke said in a statement. "You can easily point to the on-court success that Michael has brought and the improvements the team has made each year under his watch, and you can also point to the selfless, hard-working culture that has developed and grown during his tenure. We look forward to Coach Malone continuing on the sidelines as we all work toward our goal of bringing an NBA Championship to the city of Denver."
---
2:06pm: The Nuggets have agreed to a contract extension with head coach Michael Malone, sources tell ESPN's Adrian Wojnarowski.
The exact terms of the extension aren't known, but Wojnarowski classifies it as a multiyear agreement. Malone's previous deal had been set to expire after the 2022/23 season, so it sounds like the team locked him up through at least 2025.
Malone, who coached the Kings before arriving in Denver, has been on the Nuggets' bench since 2015, making him the NBA's fifth longest-tenured head coach.
During that time, he has led the club to a 309-237 (.566) record and earned three playoff berths. Denver has won three postseason series under Malone, getting as far as the Western Conference Finals in 2020.
Despite missing Michael Porter Jr. and Jamal Murray – two of their three top scorers from last season – for much of 2021/22, the Nuggets are on pace to finish at least 10 games over .500 for the fifth consecutive season.
Malone's 309 wins with the Nuggets places him third in team history, behind only Doug Moe (432) and George Karl (423), Wojnarowski notes.