Pelicans forward Zion Williamson is not expected to return from his right foot injury before the end of the 2021/22 season, sources tell Shams Charania of The Athletic.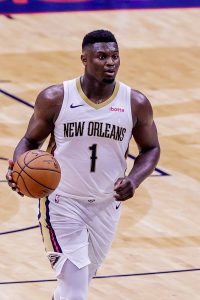 Williamson, who underwent surgery on his foot during the 2021 offseason, has gone through a stop-and-start recovery process that included multiple setbacks. He hasn't played in an NBA game since May 4, 2021.
According to Charania, the former No. 1 overall pick is able to bear weight on his foot and is making progress toward on-court work. However, with just 11 games left on the Pelicans' regular season schedule, it's an "improbably tight window" for Williamson to go through all the necessary remaining stages of his rehab, starting with one-on-zero work, Charania observes.
It's possible the odds of a Williamson return would increase if the Pelicans were able to make a deep postseason run. But as things stand, New Orleans will have to win two play-in games to even earn a spot in the playoffs — and in that scenario, the club would be a massive first-round underdog against the No. 1 Suns.
Assuming Williamson doesn't play this spring, he and the Pelicans will enter a hugely important summer with a ton of questions that remain unanswered. Williamson, whose commitment to New Orleans has been questioned since he entered the NBA in 2019, will be eligible for a rookie scale extension this offseason.
[RELATED: Community Shootaround: Zion Williamson]
The Pelicans will need to decide whether they're comfortable putting a maximum-salary offer – or something very close to it – on the table for an extremely talented player who has had trouble staying healthy since entering the NBA and may prefer to play elsewhere. Williamson will have to decide whether he wants to try to work out a new deal with New Orleans, take his chances in a contract year in 2022/23, or perhaps even push to be traded.