After blowing up their roster midway through the 2020/21 campaign, the Magic embarked on the first full season of their rebuilding process in 2021/22. The results were about what you'd expect: Orlando won just seven of its first 42 games and finished the year at the very bottom of the Eastern Conference standings with a 22-60 record.
The Magic's handling of Markelle Fultz and Jonathan Isaac, who were both recovering from ACL tears, showed just how patient the franchise is willing to be as it rebuilds its roster from the ground up. Fultz didn't play until he was about 14 months removed from his injury, while Isaac didn't suit up at all during the 2021/22 season despite having sustained his injury way back in August of 2020.
With Isaac unavailable all year and Fultz missing for most of the season, the Magic didn't get a chance to see how a couple of their important young veterans fit alongside their new prospects, but they did give those prospects an opportunity to play big minutes.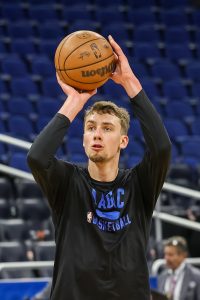 While No. 5 overall pick Jalen Suggs had an underwhelming rookie season, second-year guard Cole Anthony took a step forward and rookie forward Franz Wagner established himself as a very promising building block for the future. Orlando will be looking to add another long-term cornerstone with its top-six pick in this year's draft.
---
The Magic's Offseason Plan:
In his fourth NBA season, Mohamed Bamba finally stayed healthy and enjoyed a mini-breakout, setting new career highs in points (10.6), rebounds (8.1), and blocks (1.7) per game, while shooting 38.1% on three-pointers. The performance suggested that Bamba, who turns 24 next month, is finally on the way to becoming the player the Magic envisioned when they drafted him sixth overall in 2018.
The timing of his emergence complicates matters though. The Magic signed Wendell Carter last year to a four-year, $50MM extension that will go into effect in 2022/23 and were better this season when Carter was on the court without Bamba (-0.9 net rating) than when they played together (-5.5) or when Bamba played without Carter (-14.8).
Will the Magic be willing to invest heavily in a second young center? Will there be enough competition for Bamba on the free agent market that he even requires a significant investment? Answering these questions will help shape the rest of Orlando's offseason, since the decision on Bamba will impact whether the team operates over the cap or under it.
Of course, the Magic's luck in the lottery also may have a major impact on the Bamba decision. If the team brings in a prospect such as Chet Holmgren, Paolo Banchero, or Jabari Smith, the frontcourt rotation will start to get crowded, especially with Isaac on the way back.
Several of the Magic's other key offseason decisions relate to their veteran players. Gary Harris and Robin Lopez played their roles well, but it's unclear if the club envisions them as part of its plans going forward now that they're unrestricted free agents. Terrence Ross is under contract for one more season, but he seemingly wants to be traded and Orlando would presumably love to accommodate him. His down year in 2021/22 will make it difficult to get anything of real value for him, however.
---
Salary Cap Situation
Note: Our salary cap figures are based on the league's latest projection ($122MM) for 2022/23.
Guaranteed Salary
Jonathan Isaac ($17,400,000)
Markelle Fultz ($16,500,000)
Wendell Carter ($14,150,000)
Terrence Ross ($11,500,000)
Jalen Suggs ($6,922,320)
Franz Wagner ($5,258,280)
Cole Anthony ($3,613,680)
Chuma Okeke ($3,433,320)
R.J. Hampton ($2,412,840)
Total: $81,190,440

Player Options
Team Options
Non-Guaranteed Salary
Restricted Free Agents
Mohamed Bamba ($10,096,703 qualifying offer / $22,706,229 cap hold): Bird rights
Bol Bol ($2,701,440 qualifying offer / $4,106,189 cap hold): Bird rights
Total (cap holds): $26,812,418

Two-Way Free Agents
Draft Picks
No. 1 overall pick ($10,907,160)
No. 32 overall pick (no cap hold)
No. 35 overall pick (no cap hold)
Total: $10,907,160
Extension-Eligible Players
Note: These are players who are either already eligible for an extension or will become eligible before the 2022/23 season begins.
Markelle Fultz (veteran)
Terrence Ross (veteran)
Unrestricted Free Agents / Other Cap Holds
Gary Harris ($30,723,215 cap hold): Bird rights
Robin Lopez ($6,000,000 cap hold): Non-Bird rights
Fran Vazquez ($4,508,640 cap hold) 1
Arron Afflalo ($1,811,516 cap hold): Non-Bird rights 2
Marreese Speights ($1,811,516 cap hold): Non-Bird rights 2
Vic Law ($1,616,044 cap hold): Non-Bird rights 2
Total: $46,470,931
Offseason Cap Outlook

The cap hold for the Magic's lottery pick pushes their total guaranteed salary over $92MM. That still leaves nearly $28MM in cap space if the team lets all its free agents walk and renounces its remaining cap holds, but I'm not convinced the Magic badly want to create cap room, since they're unlikely to be major players in free agency.
I'd expect them instead to try to retain Bamba and perhaps explore a new deal with Harris. The decision to operate over or under the cap could come down to how successful – and how expensive – those efforts are. One thing to keep in mind: if new deals for Bamba and Harris project to leave the Magic with, say, $10-12MM in cap space, it makes more sense for the club to simply stay over the cap and keep its full mid-level exception.
If one of Bamba or Harris doesn't return or if Orlando sheds some salary, possibly by trading Ross, the path to cap space is more obvious. But for now we're assuming the Magic will at least begin the offseason as an over-the-cap team.
Cap Exceptions Available
Mid-level exception: $10,349,000 3
Bi-annual exception: $4,050,000 3
Footnotes
Vazquez was the Magic's No. 11 pick in 2005. He never signed a rookie contract and has since retired, but the team has yet to renounce its rights to him.
The cap holds for Afflalo, Speights, and Law remain on the Magic's books from prior seasons because they haven't been renounced. They can't be used in a sign-and-trade deal.
These are projected values. If the Magic operate as an under-the-cap team, they would renounce these exceptions and instead gain access to the room exception ($5,329,000).
---
Salary and cap information from Basketball Insiders and RealGM was used in the creation of this post.