Grizzlies guard Ja Morant has been named the NBA's Most Improved Player, according to a league press release.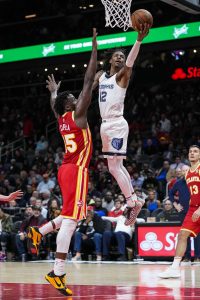 Morant is the first Memphis player to win the award. He received 221 points (38 first-place votes) from a panel of 100 sportswriters and broadcasters. Spurs guard Dejounte Murray finished in second place with 183 points (20 first-place votes).
Cavaliers guard Darius Garland wound up in third place with 11 first-place votes and 178 points, followed by the Warriors' Jordan Poole (15 first-place votes, 131 points) in fourth.
There were a wide range of legitimate MIP candidates this season, with no less than seven players receiving at least three first-place votes. Morant's teammate Desmond Bane, Sixers guard Tyrese Maxey, and Hornets forward Miles Bridges rounded out the top seven vote-getters.
A first-time All-Star, Morant averaged 27.4 PPG, 6.7 APG and 5.7 RPG in 33.1 MPG in 57 games to lead Memphis to the Western Conference's second-best record. He had an 8.3-point increase in scoring and 4.3 percent improvement in field goal percentage from last season. Morant was the Rookie of the Year two seasons ago.
Anfernee Simons, Robert Williams, Jaren Jackson, Jalen Brunson, and Max Strus also each received at least one second- and/or third-place vote. The full results can be found here.