9:10pm: Like Neubeck, Ramona Shelburne of ESPN hears from sources that Embiid's orbital fracture might not require surgery. He'll be reevaluated next week but will miss a minimum of five days due to the concussion. With the caveat that there's still no timetable for his potential return, sources tell Shelburne that "the door isn't closed" on that possibility (Twitter links).
---
7:57pm: Sixers star Joel Embiid suffered a right orbital fracture and mild concussion in the team's Game 6 victory over Toronto on Thursday, reports Shams Charania of The Athletic (via Twitter), who says the center will be sidelined with no timetable for a return.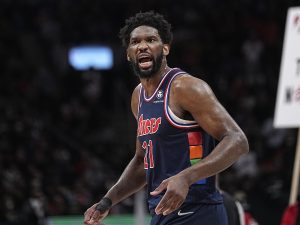 The Sixers have confirmed the news, according to Kyle Neubeck of PhillyVoice (Twitter link). Embiid will be listed as out and his status will be updated "as appropriate."
As ESPN's Tim Bontemps notes (via Twitter), the injury appeared to occur when Embiid was hit in the face by an inadvertent elbow from Pascal Siakam late in the fourth quarter of the 132-97 blowout win. Philadelphia was up 29 points at the time, with only four minutes remaining, Derek Bodner of The Daily Six newsletter tweets.
Embiid had already been playing through pain for the past week after he tore a ligament in his right thumb in Game 3 of the first-round series, which will require surgery in the offseason.
Obviously, it's devastating news for both Embiid personally and for Philadelphia's title hopes. Any prolonged absence will have a profound impact on the team's upcoming series against Miami, which starts on Monday. The Heat are the No. 1 seed in the East and hold home-court advantage over the No. 4 Sixers.
The 28-year-old big man is an MVP finalist for the second consecutive season after a phenomenal regular season in which he averaged a league-best 30.6 points along with 11.7 rebounds, 4.2 assists, 1.1 steals and 1.5 blocks on .499/.371/.814 shooting in 68 games (33.8 minutes). Despite playing through the torn thumb ligament for three-plus games, he averaged an impressive 26.2 points, 11.3 rebounds and 2.3 assists in the team's six-game series win over the Raptors.
This is the second orbital fracture Embiid has sustained in his career, Neubeck writes in a story for PhillyVoice. The first occurred on the left side of his face in 2018, with Embiid undergoing surgery and ultimately missing 22 days and 10 games (including two playoff games), which is the average recovery timeline for the injury, per Jeff Stotts of InStreetClothes.com (Twitter thread). There's no indication yet that a surgery will be required this time around, Neubeck notes.
With Embiid sidelined, the Sixers will lean heavily on James Harden, Tyrese Maxey and Tobias Harris for offense, but there will be a giant hole in the middle of the lineup with their best player out. Backup big men Paul Reed, DeAndre Jordan and Paul Millsap are candidates to see additional action in Embiid's stead.