1:06pm: The Kings have officially confirmed that Gentry won't be back as the team's head coach.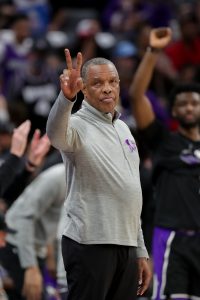 "The entire Kings organization is grateful for the leadership of Alvin Gentry, who stepped up when he got the call mid-season," GM Monte McNair said in a statement. "We appreciate his leadership on and off the court."
Although Gentry is out as head coach, he still may stick with the organization. Wojnarowski reports (via Twitter) that Gentry and the Kings are discussing a possible front office position, with a resolution expected later this week.
---
12:37pm: The Kings have informed Alvin Gentry that he's no longer the team's head coach, according to Shams Charania and Sam Amick of The Athletic (Twitter link), who report that Sacramento will immediately launch a "comprehensive" search for a new coach.
Gentry was named the Kings' interim head coach just 17 games into the 2021/22 season following the ouster of Luke Walton. After starting 6-11 under Walton, the Kings were hopeful that Gentry could lead the team to at least a spot in the play-in tournament. However, Sacramento went just 24-41 the rest of the way and finished in the lottery for a 16th consecutive season.
Gentry, who has previous head coaching experience with the Heat, Pistons, Clippers, Suns, and Pelicans, previously stuck around following interim stints in Detroit and Phoenix to become those teams' permanent head coaches, but that won't happen in Sacramento. It appears he'll be in the market for a new job this spring despite having spoken on Sunday about wanting to remain with the franchise.
"Obviously, I have a desire (to stay)," Gentry said, per Jason Anderson of The Sacramento Bee. "I love it here and I think we're on the right path. We've got some good pieces. We've got good people from our medical staff all the way up to the top. It has been done here before. It's not something that's impossible to do. It's been done here before, so you just have to wait and see, but all of those things, I don't make those decisions, so whatever happens, if it doesn't work out, then I've had a great two years here. Love the people here. Love the franchise."
The Kings, meanwhile, will conduct a wide-ranging search that includes candidates who have previously turned lottery teams into playoff clubs, tweets ESPN's Adrian Wojnarowski.
Marc Stein previously identified Terry Stotts, Mike D'Antoni, Mike Brown and Steve Clifford as names who have come up in coaching circles as possible targets for Sacramento. Wojnarowski confirms that Clifford and Brown are expected to be considered and adds Kenny Atkinson, Mark Jackson, and Bucks assistants Charles Lee and Darvin Ham to the list of potential candidates.
Rick Adelman was the last coach to take the Kings to the postseason, back in 2006. Since then, Sacramento has employed 11 different head coaches — the new hire will be the 12th.