APRIL 11: An MRI confirmed Doncic's calf strain, Tim MacMahon of ESPN tweets. The Mavs have not set a timetable for his return and won't be obligated to provide an update on Doncic's status for Game 1 until later in the week.
---
APRIL 10: Star guard Luka Doncic left the Mavericks' regular season finale vs. San Antonio on Sunday in the third quarter due to what the team is calling a left calf strain (Twitter link). Doncic limped to the locker room after sustaining the injury and was quickly ruled out for the rest of the game.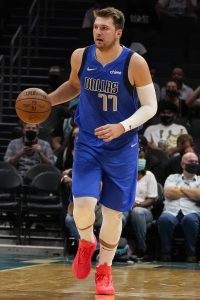 It's certainly not great timing for Doncic and the Mavericks, who have earned the No. 4 seed in the West and are looking to make a deep playoff run this spring.
As Jeff Stotts of In Street Clothes observes (via Twitter), calf strains can result in a wide range of recovery timelines depending on the severity and the location. On average, a player who sustained the injury this season was out for 16 days, per Stotts, but some players returned much quicker than that.
One factor working in Doncic's favor is that Dallas' first-round series won't tip off until Saturday, so he'll have the better part of a week to try to get healthy. According to ESPN's Adrian Wojnarowski (Twitter link), there's initial optimism that the All-NBA guard hasn't suffered a significant injury.
It looked earlier this weekend as if Doncic wouldn't even be active for the Mavs' regular season finale, since he was assessed with his 16th technical foul on Friday night, which would have triggered an automatic one-game suspension. However, the NBA rescinded that technical on Saturday, allowing Doncic to suit up on Sunday.
If Doncic has to miss any playoff games, the Mavs would lean more heavily on point guards Jalen Brunson and Spencer Dinwiddie for scoring and play-making.