Raptors forward Scottie Barnes has won the 2021/22 NBA Rookie of the Year award, the league announced in a press release. Barnes finished in first place over fellow finalists Evan Mobley and Cade Cunningham who finished in second and third place, respectively.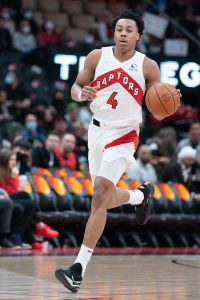 Barnes, who earned 48 first-place votes and 378 total points, narrowly edged out Mobley for the award. The Cavaliers' big man had 43 first-place votes and 363 total points. The 15-point difference is the smallest margin of victory for Rookie of the Year since the current voting format started 19 years ago.
Cunningham, the Pistons' starting point guard, had nine first-place votes and 153 total points for a solid third-place finish. Jalen Green, Franz Wagner, and Herbert Jones were the only other rookies who received votes — none of them earned a first-place vote, and none had more than two total votes.
The 20-year-old Barnes averaged 15.3 points, 7.5 rebounds and 3.5 assists for Toronto this season, shooting 49% from the floor and 30% from deep. He also provided versatile defense and helped the Raptors finish with the fifth-best record in the East at 48-34.
Barnes was drafted by Toronto No. 4 overall last year. He ranked third in points per game, third in rebounds per game and seventh in assists per game among all rookies this season. He also finished with the second-most steals in the group (80 in 74 games).
The NBA still hasn't revealed the winners for most of this season's awards, including Most Valuable Player — Defensive Player of the Year (Marcus Smart) is the only other award that has been announced to date. The full list of finalists for each award can be found here.