The Hornets took some real steps forward in 2021/22. After posting a 33-39 record and the NBA's 23rd-best net rating (-1.9) a year earlier, Charlotte registered a positive net rating and won an additional 10 games, finishing at 43-39.
The end result was the same, however. In both years, the Hornets finished 10th in the Eastern Conference, went on the road for their first play-in game, and lost it in blowout fashion due to a lackluster defensive performance.
Rather than focusing on the positive strides the Hornets made this past season, the team's front office and ownership group instead focused on the repeated play-in disappointments. As a result, head coach James Borrego was dismissed and roster changes are likely around the corner for a Hornets team looking to play more than just a single postseason game in 2023.
---
The Hornets' Offseason Plan:
The Hornets are the only NBA team that still has a head coaching vacancy, after the Kings and Lakers filled their respective openings. Hiring a replacement for Borrego will be the first order of business and will be one of the most important decisions of the offseason.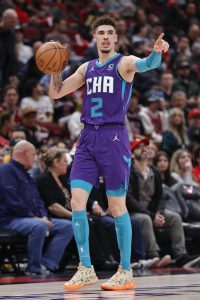 Ideally, Charlotte would want a coach capable of maximizing LaMelo Ball's talents, developing prospects like James Bouknight and Kai Jones, solidifying the defense, and turning a lottery team into a legitimate playoff threat. Finding a candidate who checks all those boxes won't be easy.
Mike D'Antoni's name has frequently been linked to the Charlotte job, which makes some sense given his history with point guards, but he's not exactly known as a defensive mastermind. Darvin Ham was reportedly considered a serious candidate, but he's off the table now that he has agreed to coach the Lakers. Frank Vogel, Terry Stotts, Kenny Atkinson, David Vanterpool, Charles Lee, and Sean Sweeney are among the others who have reportedly interviewed, but it's unclear whether any of them have captured the Hornets' imagination with their vision for the franchise.
Once their head coaching search is complete, the Hornets will shift their focus to addressing a roster that still has a few holes. I'd expect the front office to do all it can to retain restricted free agent Miles Bridges, who was the team's leading scorer in 2021/22. Charlotte would presumably prefer not to go all the way up to the maximum salary to re-sign Bridges, and it's possible that won't be necessary if no other team makes a serious run at him. But the cost to lock him up long-term will almost certainly be $25MM+ per year.
Assuming they secure Bridges, the Hornets will have to determine how best to surround him and rising star Ball going forward. Gordon Hayward, Terry Rozier, P.J. Washington, Montrezl Harrell, Kelly Oubre, Mason Plumlee, Cody Martin, and Jalen McDaniels filled out the rotation in 2021/22, but there are questions surrounding many of those players.
Hayward has battled injury issues since arriving in Charlotte — will the Hornets be able to use his contract in a trade or will they have to count on him being healthier going forward? Washington is extension-eligible this offseason, but is he a long-term keeper or a potential trade chip in a deal for an impact player?
Will Harrell be re-signed or will he be a roster casualty as the Hornets look to upgrade their center spot? Will Oubre and Plumlee, who both have partial guarantees, be retained on their current deals? What will it cost to re-sign RFA-to-be Martin? And does it make sense to turn down McDaniels' option and negotiate a new contract with him this summer instead of waiting for him to reach unrestricted free agency in 2023?
While one of Harrell or Plumlee could be back, I'd expect acquiring a starting center to be at or near the top of the Hornets' offseason to-do list. The team's poor defensive numbers can be attributed in part to lacking the sort of big man who can protect the rim and control the boards.
Myles Turner has long been on Charlotte's radar, but may not be on the trade block anymore following the Pacers' decision to move Domantas Sabonis. If the Hornets want to swing big, Rudy Gobert or Deandre Ayton could be options, either via trade or free agency. If they want to play it a little safer, targeting players like Richaun Holmes or Mitchell Robinson could make more sense.
The Hornets control two first-round picks next month, at No. 13 and No. 15, which should create additional options for them on the trade market. It's possible Charlotte could simply use both picks, but after not getting much out of last year's first-rounders, Bouknight and Jones, it seems unlikely that the team would want to bring in more rookies in 2022/23, especially with the pressure to make the playoffs increasing.
If the Hornets can't make a deal on or before draft night that sends out one of those picks in a deal for veteran talent, don't be surprised if they trade one of them for a future first-round selection, plus maybe a second-rounder or two. Those picks could subsequently be used as sweeteners in a trade for win-now help during free agency or even at next season's deadline.
---
Salary Cap Situation
Note: Our salary cap figures are based on the league's latest projection ($122MM) for 2022/23.
Guaranteed Salary
Gordon Hayward ($30,075,000)
Terry Rozier ($21,486,316)
Nicolas Batum ($8,856,969) — Waived via stretch provision.
LaMelo Ball ($8,623,920)
P.J. Washington ($5,808,435)
Kelly Oubre ($5,000,000) — Partial guarantee. Rest of salary is noted in non-guaranteed section below. 1
James Bouknight ($4,362,240)
Mason Plumlee ($4,262,500) — Partial guarantee. Rest of salary is noted in non-guaranteed section below. 2
Kai Jones ($2,909,040)
JT Thor ($1,563,518)
Total: $92,947,938

Player Options
Team Options
Non-Guaranteed Salary
Kelly Oubre ($7,600,000) 1
Mason Plumlee ($4,817,917) 2
Nick Richards ($1,782,621) 4
Total: $14,200,538
Restricted Free Agents
Miles Bridges ($7,921,300 qualifying offer / $16,264,479 cap hold): Bird rights
Cody Martin ($2,228,276 qualifying offer / $2,228,276 cap hold): Bird rights
Total (cap holds): $18,492,755

Two-Way Free Agents
Draft Picks
No. 13 overall pick ($4,069,080)
No. 15 overall pick ($3,672,120)
No. 45 overall pick (no cap hold)
Total: $7,741,200
Extension-Eligible Players
Note: These are players who are either already eligible for an extension or will become eligible before the 2022/23 season begins.
Gordon Hayward (veteran)
Jalen McDaniels (veteran) 5
Mason Plumlee (veteran)
Nick Richards (veteran)
P.J. Washington (rookie scale)
Unrestricted Free Agents / Other Cap Holds
Offseason Cap Outlook

The Hornets could theoretically open up some cap room, but it would require, at the very least, letting Bridges walk. That seems unlikely.
If we assume Bridges will be back and Charlotte will have to account for some combination of Oubre, Plumlee, McDaniels, Martin, and its first-round picks, it's more likely that team salary will approach luxury tax territory rather than being below the cap.
Cap Exceptions Available
Mid-level exception: $10,349,000 6
Bi-annual exception: $4,050,000 6
Footnotes
Oubre's salary will become fully guaranteed after June 30.
Plumlee's salary will become fully guaranteed after June 21.
McDaniels' salary will remain non-guaranteed until August 1 even if his option is exercised.
Richards' salary will become fully guaranteed after July 7.
McDaniels would only be eligible if his option is exercised.
These are projected values. If the Hornets decide to go under the cap and use cap room, they'll forfeit these exceptions and instead gain access to the room exception ($5,329,000). If the Hornets approach or cross the tax line, they may not have access to the full mid-level exception and/or bi-annual exception and would instead be limited to the taxpayer mid-level exception ($6,392,000).
---
Salary and cap information from Basketball Insiders and RealGM was used in the creation of this post.