The Pacers entered the 2021/22 season with playoff aspirations, but some bad luck and tight losses derailed the first half of their season, and a series of injuries contributed to their inability to get back on track.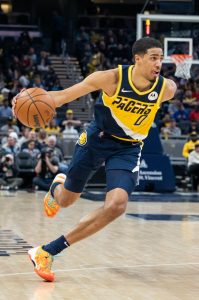 By the trade deadline, the Pacers were looking ahead to the future and decided to send All-Star center Domantas Sabonis to Sacramento in a six-player deal for potential franchise cornerstone Tyrese Haliburton.
The move was typical of an Indiana team that has historically been reluctant to launch a full-fledged rebuild. As was the case when they traded Paul George to Oklahoma City in 2017 for Sabonis and Victor Oladipo, the Pacers preferred to acquire a promising young player rather than far-away draft picks, in the hopes of accelerating their return to the postseason.
With a top-10 pick in hand and some intriguing talent under contract, it will be interesting to see how much patience the front office is willing to exercise this offseason as the retooling process continues.
---
The Pacers' Offseason Plan:
We know that Haliburton will be part of the future in Indiana, and it's a safe bet that 2021 first-rounders Chris Duarte and Isaiah Jackson aren't going anywhere either. Beyond that, there are some unanswered questions.
Myles Turner was viewed as one of the NBA's top trade candidates early in the 2021/22 season. With Sabonis gone, will Turner stick around or will the Pacers still be willing to discuss him trade talks? If he's part of the long-term plans, will Indiana be able to extend him this offseason as he prepares to enter a contract year? Would Turner be open to an extension?
Malcolm Brogdon, meanwhile, is under contract for three more seasons, and could theoretically fit alongside Haliburton, since both players can handle the ball or play off it and neither is a defensive liability. However, there has been some speculation that Brogdon could be dealt, especially if the Pacers want to clear some long-term money from their books. He wasn't trade-eligible during the season after signing an extension, but he will be this summer. Will Indiana look to move him?
When Buddy Hield was included in the Haliburton trade in February, it wasn't clear whether he was simply thrown in for salary-matching purposes or if the Pacers envisioned him remaining on the roster beyond the season. His performance in Indiana made that an even more interesting question — his 18.2 PPG and .447 FG% were significant steps up from the numbers he was putting up in Sacramento, and he flashed newfound play-making skills (a career-high 4.8 APG).
Hield has two years and $40MM left on his contract, which looks a little more team-friendly than it did three or four months ago. The Pacers should be able to move him without having to attach other assets, but it's unclear what their intentions are.
Jalen Smith played well for the Pacers after arriving in a deadline deal, but because his 2022/23 rookie scale team option was declined last year, the team can't offer him a starting salary higher than about $4.7MM, which may not be enough to bring him back.
I also wouldn't expect Ricky Rubio or T.J. Warren – neither of whom played a game for Indiana this season – to return, but the team's final unrestricted free agent, Lance Stephenson, is a good candidate for a new deal. He seems to have found a home in Indiana.
Of course, before they have to make any free agent decisions, the Pacers will have a lot riding on the draft lottery results. Their offseason will take a much different shape if they're picking in the top three or four than it would if they slip to No. 7 or No. 8.
---
Salary Cap Situation
Note: Our salary cap figures are based on the league's latest projection ($122MM) for 2022/23.
Guaranteed Salary
Malcolm Brogdon ($22,600,000)
Buddy Hield ($21,177,750)
Myles Turner ($18,000,000)
T.J. McConnell ($8,100,000)
Goga Bitadze ($4,765,339)
Tyrese Haliburton ($4,215,120)
Chris Duarte ($3,936,960)
Isaiah Jackson ($2,573,760)
Terry Taylor ($625,000) — Partial guarantee. Rest of salary is noted in non-guaranteed section below. 1
Total: $85,993,929

Player Options
Team Options
Non-Guaranteed Salary
Restricted Free Agents
Two-Way Free Agents
Draft Picks
No. 6 overall pick ($6,498,600)
No. 31 overall pick (no cap hold)
No. 60 overall pick (no cap hold)
Total: $6,498,600

Extension-Eligible Players
Note: These are players who are either already eligible for an extension or will become eligible before the 2022/23 season begins.
Goga Bitadze (rookie scale)
Buddy Hield (veteran)
Myles Turner (veteran)
Unrestricted Free Agents / Other Cap Holds
Ricky Rubio ($26,700,000 cap hold): Bird rights
T.J. Warren ($19,035,000 cap hold): Bird rights
Jalen Smith ($4,670,160 cap hold): Bird rights 4
Lance Stephenson ($1,811,516 cap hold): Non-Bird rights
Total: $52,216,676
Offseason Cap Outlook

Taking into account their returning players, Brissett's team option, and a cap hold for their first-round pick, the Pacers project to have about $94MM in guaranteed money. That number could fluctuate a little one way or the other, depending on their lottery luck, but it puts the team in position to open up at least $20-25MM in cap space.
Taking that route would mean renouncing most of their free agent cap holds, as well as about $35MM in free agency and trade exceptions, detailed below. So the Pacers would need a good reason to renounce those cap charges and operate under the cap. If they have no specific use for the space, they could simply continue to function as an over-the-cap club, retaining all their exceptions.
Cap Exceptions Available
Mid-level exception: $10,349,000 5
Bi-annual exception: $4,050,000 5
Trade exception: $10,500,000
Trade exception: $7,333,333
Trade exception: $2,320,000
Trade exception: $420,049
Footnotes
Taylor's salary will become fully guaranteed after July 10.
Brissett's salary will remain non-guaranteed even if his option is exercised.
Washington's salary will become fully guaranteed after July 6.
The Pacers can't offer Smith a starting salary worth more than his cap hold, since his 2022/23 rookie scale option was declined.
These are projected values. If the Pacers decide to go under the cap and use cap room, they'll forfeit these exceptions (and their trade exceptions) and instead gain access to the room exception ($5,329,000).
---
Salary and cap information from Basketball Insiders and RealGM was used in the creation of this post.