No team had a more disappointing 2021/22 season than the Lakers, who entered the year as the favorites to come out of the Western Conference. After an underwhelming but respectable 21-19 start, the Lakers improbably won just 10 of their next 40 games, missing out on not just the playoffs but the play-in tournament.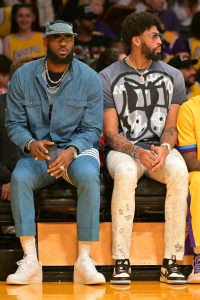 Injuries to superstars LeBron James and Anthony Davis played a part in the Lakers' struggles, but it's not like the team was dominant when James, Davis, and Russell Westbrook were all available. A lack of reliable role players and an inability to maximize Westbrook's strengths contributed to a letdown of a season in Los Angeles, and head coach Frank Vogel became the fall guy, losing his job at the end of the regular season.
While the Lakers would presumably like to make significant roster changes this offseason, reshaping the roster around James and Davis, their ability to do so will be limited, since they project to be a taxpaying team even with just a handful of players under contract, and don't have any picks in this year's draft.
---
The Lakers' Offseason Plan:
A year after trading away Kyle Kuzma, Kentavious Caldwell-Pope, Montrezl Harrell, and their first-round pick for Westbrook, the Lakers would be thrilled to pull off the inverse of that deal, sending out Westbrook's expiring contract for a handful of less expensive rotation players and a draft pick.
Unfortunately, Westbrook's stock has cratered in the last 12 months and it's unlikely the Lakers will be able to get anything decent back for him unless they're willing to include their 2027 and/or 2029 first-round picks (the only two they can currently move, due to the Stepien Rule) or unless they're open to taking on a significant chunk of unwanted multiyear salary.
With the Lakers focused on maximizing their title window for as long as the 37-year-old James is still playing at an All-NBA level, it's not out of the question that they'd further mortgage their future by attaching a couple first-rounders to Westbrook to get immediate help.
However, the front office has projected patience in recent months, and the team has reportedly asked its head coaching candidates how they would use the 33-year-old point guard. That's a sign that the Lakers are leaning toward hanging onto Westbrook – at least for now – and perhaps revisiting a trade at the 2023 deadline or letting his $47MM+ salary come off the cap next summer.
If James, Davis, and Westbrook are staying, the Lakers will have about $130MM on their books for just three players, eliminating any possibility of cap space and almost certainly preventing the club from using its full, non-taxpayer mid-level exception. Even just filling out the rest of the roster with minimum-salary players would take team salary above the projected luxury tax line.
That leaves a small handful of assets for the Lakers to use for potential roster upgrades. A trade package that includes Talen Horton-Tucker and/or Kendrick Nunn is one option. Neither player's value is especially high right now, but Horton-Tucker is still young enough (21) to have some upside and Nunn, whose $5.25MM expiring contract isn't onerous, is a bounce-back candidate if he's healthy. Adding a future first-round pick to that duo would further sweeten the pot.
It's also worth noting that the Lakers still have about $4.4MM available to send out in trades before the 2022/23 league year begins in July. That money could be used to grease the wheels on a Horton-Tucker/Nunn deal or to trade back into the second round of the draft.
With the full mid-level exception, the bi-annual exception, and sign-and-trade acquisitions likely off the table for the Lakers due to their proximity to the tax line, they'll probably be limited to the taxpayer mid-level exception and minimum-salary contracts in free agency.
Last year's free agent haul showed the dangers of leaning on those limited assets — the team used its taxpayer MLE on Nunn, who didn't play a single game due to a leg injury, and many of its minimum-salary signings were busts, including DeAndre Jordan, Trevor Ariza, and Kent Bazemore.
However, minimum-salary additions like Malik Monk, Avery Bradley, and Stanley Johnson worked out well, as did the signing of undrafted rookie Austin Reaves. It'll be easier said than done, but the front office will be looking to improve its hit rate on its low-cost signings in 2022/23, finding more Monks and fewer Jordans.
The Lakers' head coaching search also shouldn't be overlooked as one of the most important decisions of the team's offseason. Identifying a candidate who is capable of managing superstar personalities, getting more out of Westbrook, handling the Los Angeles spotlight, and guiding the team back to contention will be a challenge.
---
Salary Cap Situation
Note: Our salary cap figures are based on the league's latest projection ($122MM) for 2022/23.
Guaranteed Salary
Player Options
Team Options
Non-Guaranteed Salary
Restricted Free Agents
Two-Way Free Agents
Draft Picks
Extension-Eligible Players
Note: These are players who are either already eligible for an extension or will become eligible before the 2022/23 season begins.
LeBron James (veteran)
Russell Westbrook (veteran) 2
Unrestricted Free Agents / Other Cap Holds
Carmelo Anthony ($1,811,516 cap hold): Non-Bird rights
D.J. Augustin ($1,811,516 cap hold): Non-Bird rights
Kent Bazemore ($1,811,516 cap hold): Non-Bird rights
Avery Bradley ($1,811,516 cap hold): Non-Bird rights
Jared Dudley ($1,811,516 cap hold): Early Bird rights 3
Wayne Ellington ($1,811,516 cap hold): Non-Bird rights
Dwight Howard ($1,811,516 cap hold): Non-Bird rights
Malik Monk ($1,811,516 cap hold): Non-Bird rights
Dion Waiters ($1,811,516 cap hold): Non-Bird rights 3
Kostas Antetokounmpo ($1,616,044 cap hold): Early Bird rights 3
Total: $17,919,688
Offseason Cap Outlook

Even if the Lakers do find a taker for Westbrook, who is a lock to pick up his option, they'll likely have to take back upwards of $40MM in salary to make the deal work financially — dumping his $47MM+ contract onto another team without taking much, or any, salary back just isn't realistic.
As a result, it's a pretty safe bet that the Lakers will once again find themselves above the luxury tax line in 2022/23. Right now, that tax line projects to be set at $149MM.
Due to their cap situation and their lack of any real Bird rights on their free agents, it'll be difficult for the Lakers to give any of those veterans much of a raise on their 2021/22 salary. That will be a problem if they want to re-sign Monk — they'll be limited to an offer worth about $2.5MM unless they use their taxpayer mid-level exception on him.
Cap Exceptions Available
Taxpayer mid-level exception: $6,392,000 4
Trade exception: $2,692,991
Trade exception: $1,669,178
Footnotes
Gabriel's salary will remain non-guaranteed even if his option is exercised.
Westbrook would only be eligible if his option is exercised, which is expected.
The cap holds for these players remain on the Lakers' books from prior seasons because they haven't been renounced. They can't be used in a sign-and-trade deal.
This is a projected value.
---
Salary and cap information from Basketball Insiders and RealGM was used in the creation of this post.