The Knicks were one of the most pleasant surprises of the 2020/21 NBA season, outperforming expectations by finishing 10 games above .500 and returning to the playoffs for the first time since 2013. Instead of building on that progress in '21/22, however, the team took a step backward, falling eight games below .500 and missing the playoffs and the play-in tournament entirely.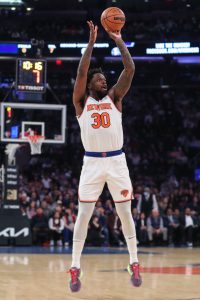 There were a variety of reasons for the Knicks' letdown of a season. Regression affected certain players, including Julius Randle, who came back to earth after earning a spot on the All-NBA Second Team and a Most Improved Player award a year ago. Injuries were an issue, with point guard Derrick Rose limited to just 26 appearances. And New York's offseason personnel changes didn't pay dividends. Kemba Walker, in particular, was a bust — knee issues continued to diminish his effectiveness, and his offensive production was no longer good enough to make up for his subpar defense.
The Knicks built a reputation as a hard-nosed defensive team under Tom Thibodeau in 2020/21, placing fourth in the NBA in defensive rating, but didn't look like that same club in the first half of last season. The good news? New York had the NBA's best defensive rating after the 2022 All-Star break. The team will try to carry over that success to the fall, though it's safe to assume next season's roster will look a little different than the one that finished 2021/22.
---
The Knicks' Offseason Plan:
The Knicks' offseason intentions are difficult to ascertain, and not just because president of basketball operations Leon Rose has zero interest in ever speaking to the media. The team doesn't project to have any cap room, but it also has very few long-term veteran contracts on its books and has an excess of future draft picks, so there's some flexibility to make significant changes this summer if the front office wants to take that path.
Rose, Walker, Alec Burks, and Nerlens Noel will earn a combined $43MM in 2022/23, but all four are on either expiring contracts or de facto expiring deals that include a 2023/24 team option, making them intriguing trade chips, either in the offseason or at next year's trade deadline.
Even the team's two most expensive veterans, who are on longer-term deals, are potential trade candidates. Randle and Evan Fournier will be more difficult to move since they're pricier and aren't coming off their best seasons, which will make it challenging to agree on fair value. But it's safe to assume the Knicks would listen on either one if they receive inquiries from potential trade partners.
While no player on the Knicks' roster should be considered a mortal lock to return, RJ Barrett is pretty close. The former No. 3 overall pick struggled to maintain his level of scoring efficiency in 2021/22 as his usage rate continued to increase, but he has shown enough upside to be viewed as a long-term cornerstone in New York.
Barrett will be eligible for a rookie scale extension this offseason and it will be interesting to see how the Knicks approach those negotiations. If the 21-year-old isn't willing to sign for anything less than the maximum salary, the club is probably better off waiting another year to further assess whether he's worthy of that kind of financial commitment.
Besides Barrett, the Knicks will probably be inclined to hang onto most of the rest of their 24-and-under group, including Obi Toppin, Immanuel Quickley, Quentin Grimes, Miles McBride, and Cam Reddish. Perhaps one or two of them could be used to sweeten a trade package for an impact player, but if that sort of deal isn't available, the team will want to continue evaluating its youngsters to determine which ones are keepers.
Reddish, like Barrett, is extension-eligible this offseason, but the Knicks haven't seen enough from him yet to guarantee him anything long-term.
As the Knicks consider potential trades or free agent signings, adding a starting point guard remains a top priority. Jalen Brunson has been repeatedly linked to New York for months, and his connections to the franchise (via Rose and his father Rick Brunson) have been well documented, but it won't be easy to pry him away from the Mavericks, who have repeatedly conveyed a desire to keep him.
Since they won't have any cap room, the Knicks would either have to shed a couple contracts via trade to create the cap room necessary to make a serious offer for Brunson, or negotiate a sign-and-trade deal with a Dallas team that won't be eager to help them out.
Neither one of those scenarios is out of the question, especially since Brunson will be unrestricted — if he wants to go to New York, he can make it happen. But the Knicks may be wary about giving up assets (in a sign-and-trade or in salary-dump trades) in order to give an undersized point guard upwards of $20-25MM per year. They weren't interested in seriously pursuing a similar player (Fred VanVleet) at a similar rate a year ago when they had cap room available, so we'll see if they make a real push for Brunson or look elsewhere for point guard help.
Trades may be the focus of the offseason for the Knicks, since 13 of their 15 standard-roster players remain under contracts, but there's one key free agent to watch: big man Mitchell Robinson.
Like Brunson, Robinson signed a four-year contract as a second-round pick and will be an unrestricted free agent this summer, having never had to deal with restricted free agency. That will reduce the Knicks' leverage and allow Robinson to sign outright with a new team without giving his current team a chance to match. It wouldn't surprise me if he departs, given that he didn't always seem thrilled about his role in New York — that could open the door for a new team to sell the young center on its vision for him.
---
Salary Cap Situation
Note: Our salary cap figures are based on the league's latest projection ($122MM) for 2022/23.
Guaranteed Salary
Julius Randle ($23,760,000)
Evan Fournier ($18,000,000)
Derrick Rose ($14,520,730)
RJ Barrett ($10,900,635)
Alec Burks ($10,012,800)
Nerlens Noel ($9,240,000)
Kemba Walker ($9,165,471)
Cam Reddish ($5,954,454)
Obi Toppin ($5,348,280)
Immanuel Quickley ($2,316,240)
Quentin Grimes ($2,277,000)
Miles McBride ($1,563,518)
Feron Hunt (two-way)
Jericho Sims (two-way)
Total: $113,059,128

Player Options
Team Options
Non-Guaranteed Salary
Restricted Free Agents
Two-Way Free Agents
Draft Picks
No. 11 overall pick ($4,508,640)
No. 42 overall pick (no cap hold)
Total: $4,508,640

Extension-Eligible Players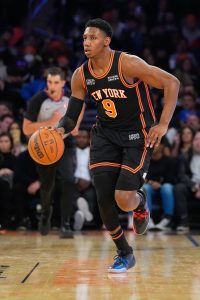 Note: These are players who are either already eligible for an extension or will become eligible before the 2022/23 season begins.
RJ Barrett (rookie scale)
Cam Reddish (rookie scale)
Unrestricted Free Agents / Other Cap Holds
Offseason Cap Outlook

The Knicks currently project to operate over the cap. Their guaranteed salary and the cap hold for their first-round pick total approximately $118MM, so the mid-level and bi-annual exceptions would push team salary well past the projected $122MM cap.
The Knicks remain far below the projected luxury tax line ($149MM), so they should have the flexibility to re-sign Robinson and use the full mid-level exception, if they so choose. Theoretically, New York could even clear a little cap space by moving a mid-sized salary or two, but to take that route, the team would probably need to have a specific free target in mind and be very confident about its chances to secure that target.
Cap Exceptions Available
Mid-level exception: $10,349,000 1
Bi-annual exception: $4,050,000 1
Trade exception: $1,175,818
Footnotes
These are projected values. If the Knicks decide to go under the cap and use cap room, they'll forfeit these exceptions (and their trade exception) and instead gain access to the room exception ($5,329,000).
---
Salary and cap information from Basketball Insiders and RealGM was used in the creation of this post.