After two consecutive first-round playoff losses, the Trail Blazers entered the 2021/22 season hoping that a new head coach (Chauncey Billups), a new frontcourt addition (Larry Nance Jr.), and a full season of newly re-signed swingman Norman Powell would raise their ceiling.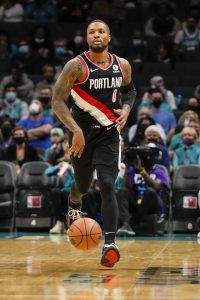 However, after a 10-8 start, Portland lost 14 of its next 17 games, and the last of those 17 games was the final one of Damian Lillard's season, as he underwent surgery to address an abdominal injury that had bothered him for years.
With their playoff hopes on life support, the Blazers changed course. New general manager Joe Cronin – who replaced president of basketball operations Neil Olshey in December following an investigation into Olshey's workplace conduct – was given the green light to overhaul the roster prior to the trade deadline. Cronin didn't hold back, sending Powell and Robert Covington to the Clippers and Nance and CJ McCollum to New Orleans for future assets and cap flexibility.
Jusuf Nurkic (foot), Nassir Little (shoulder), and Anfernee Simons (knee) joined Lillard on the sidelines as Portland went into tank mode in the second half of the season. Following the All-Star break, the Blazers were 2-21 with an unfathomably bad -21.3 net rating, finishing with the NBA's sixth-worst record and putting themselves in position to draft a top prospect this June.
---
The Trail Blazers' Offseason Plan:
When Cronin blew up the Blazers' roster in February, the common refrain coming out of Portland was that the team wanted to quickly retool the roster, perhaps flipping some of its newly-acquired assets before next season in an effort to get back to the playoffs. The goal wasn't to launch a full-fledged rebuild, but to reshape the roster around players like Lillard, Little, and RFA-to-be Simons.
Avoiding a years-long tank is a noble goal, but it's unclear whether the Blazers have the assets necessary to complete a fast turnaround. The packages they received in their deadline deals with the Clippers and Pelicans were somewhat underwhelming, especially after New Orleans made the playoffs and prevented Portland from acquiring the Pels' 2022 first-round pick (it would've gone to the Blazers if it landed between Nos. 5 and 14).
The Blazers acquired Josh Hart, a solid two-way contributor, in the McCollum trade, and got Justise Winslow and Keon Johnson in their trade with the Clippers. Those players could help going forward, but they're complementary parts, not centerpieces. The most valuable draft asset the Blazers got in their two mega-deals was Milwaukee's top-four protected 2025 first-round pick, which will have limited trade value, given that it's considered unlikely to be a high selection.
Theoretically, Portland has a path to significant cap room this offseason, but maximizing that space would mean shedding non-guaranteed salaries (like Hart's), renouncing key cap holds (including Nurkic's), and forfeiting the $20.8MM trade exception created in the McCollum deal. In other words, any move requiring cap room would force the Blazers to make some serious sacrifices, so the trade-off may not be worth it.
The Blazers' most logical play this offseason might be to operate over the cap, re-signing Simons and Nurkic, retaining Hart, and waiving Eric Bledsoe's mostly non-guaranteed contract in order to create space under the tax line to take advantage of that big trade exception and/or the mid-level exception, targeting wings and strong defensive players with those exceptions.
A five-man group of Lillard, Simons, Nurkic, Hart, and Little probably isn't a playoff-caliber starting lineup in the West, but it's a decent starting point for the roster. With a top-10 pick, some cap exceptions, and a willingness to trade future draft assets, Portland is in position to add more talent.
Still, given how much the team is paying Lillard on his current contract and how much new deals for Simons and Nurkic could cost, there won't be a ton of margin for error, so the Blazers are under some pressure to get this summer's moves right.
---
Salary Cap Situation
Note: Our salary cap figures are based on the league's latest projection ($122MM) for 2022/23.
Guaranteed Salary
Damian Lillard ($42,492,492)
Nassir Little ($4,171,548)
Justise Winslow ($4,097,561)
Eric Bledsoe ($3,900,000) — Partial guarantee. Rest of salary is noted in non-guaranteed section below. 1
Andrew Nicholson ($2,844,430) — Waived via stretch provision.
Keon Johnson ($2,681,040)
Didi Louzada ($1,876,222)
Greg Brown ($1,563,518)
Trendon Watford ($1,563,518)
Brandon Williams (two-way)
Total: $65,190,329

Player Options
Team Options
Non-Guaranteed Salary
Eric Bledsoe ($15,475,000) 1
Josh Hart ($12,960,000) 2
Total: $28,435,000
Restricted Free Agents
Anfernee Simons ($5,758,552 qualifying offer / $11,816,454 cap hold): Bird rights
Elijah Hughes ($2,011,516 qualifying offer / $2,011,516 cap hold): Early Bird rights
CJ Elleby ($2,011,516 qualifying offer / $2,011,516 cap hold): Early Bird rights
Total (cap holds): $15,839,486

Two-Way Free Agents
Draft Picks
No. 7 overall pick ($5,932,440)
No. 36 overall pick (no cap hold)
No. 59 overall pick (no cap hold)
Total: $5,932,440
Extension-Eligible Players
Note: These are players who are either already eligible for an extension or will become eligible before the 2022/23 season begins.
Eric Bledsoe (veteran)
Damian Lillard (veteran)
Nassir Little (rookie scale)
Unrestricted Free Agents / Other Cap Holds
Joe Ingles ($19,554,546 cap hold): Bird rights
Jusuf Nurkic ($18,000,000 cap hold): Bird rights
Caleb Swanigan ($3,665,787 cap hold): Bird rights 3
Ben McLemore ($1,811,516 cap hold): Non-Bird rights
Harry Giles ($1,811,516 cap hold): Non-Bird rights 3
Rondae Hollis-Jefferson ($1,811,516 cap hold): Non-Bird rights 3
T.J. Leaf ($1,616,044 cap hold): Non-Bird rights 3
Total: $48,270,925
Offseason Cap Outlook

With just $65MM in guaranteed money on their books for next season, the Blazers could theoretically create upwards of $50MM in cap room if they renounce all their free agents and exceptions, waive-and-stretch Bledsoe, and drop Hart. However, that's probably not a realistic outcome.
It's a safe bet that Simons isn't going anywhere, and Hart's deal is pretty team-friendly. If we add Simons' cap hold and Hart's salary to Portland's books, that projected cap room dips to about $27MM. And if the team intends to retain Nurkic and its $20MM+ trade exception, that cap room goes away entirely.
The Blazers will have options this offseason, but they'd need a very good, specific reason to give up key assets to go under the cap. Our working assumption is that they'll be an over-the-cap team unless an opportunity arises that they can't pass up.
Cap Exceptions Available
Mid-level exception: $10,349,000 4
Bi-annual exception: $4,050,000 4
Trade exception: $20,864,198
Trade exception: $6,519,792
Trade exception: $3,261,480
Footnotes
Bledsoe's salary will become fully guaranteed after July 10.
Hart's salary will become fully guaranteed after June 25.
The cap holds for these players remain on the Blazers' books from prior seasons because they haven't been renounced. They can't be used in a sign-and-trade deal.
These are projected values. If the Blazers decide to go under the cap and use cap room, they'll forfeit these exceptions (and their trade exceptions) and instead gain access to the room exception ($5,329,000).
---
Salary and cap information from Basketball Insiders and RealGM was used in the creation of this post.