MAY 5: Simmons' procedure today was successful, the Nets announced in a press release. He'll begin the rehabilitation process after resting for three weeks and "is expected to make a full recovery prior to the start of next season's training camp."
---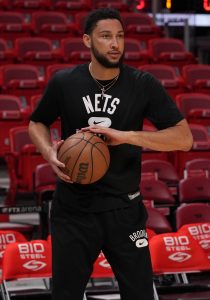 MAY 4: Nets guard/forward Ben Simmons will undergo back surgery on Thursday, the team announced (Twitter link via Marc J. Spears of Andscape).
Simmons will undergo a microdiscectomy in order to relieve the pain from his herniated disc after consulting with "multiple back specialists." The team will provide updates on his status after the surgery.
Simmons is expected to make a full recovery in three-to-four months, reports Adrian Wojnarowski of ESPN (via Twitter), who says Simmons should be ready for action prior to next season's training camp.
Over the past few months, head coach Steve Nash had downplayed the possibility of Simmons needing back surgery, per Nick Friedell of ESPN (Twitter link). Simmons will join Dwight Howard, Michael Porter Jr. and Brook Lopez on the list of NBA players who've undergone a microdiscectomy,  tweets Stefan Bondy of the New York Daily News, who notes that Warriors coach Steve Kerr also had the procedure and wound up having additional complications and pain.
Simmons missed the entire 2021/22 season after a prolonged holdout with the Sixers following a trade request last summer. He was famously moved on the day of the trade deadline in February (along with Seth Curry, Andre Drummond, and a couple of first-round picks) in exchange for James Harden.
Shortly after he was dealt to Brooklyn, Simmons began experiencing pain in his back, and it was reported that he had a herniated L-4 disc in his lower spine. He received an epidural to relieve soreness, and despite seemingly making progress in recent weeks, he ended up missing the team's first-round playoff sweep at the hands of the Celtics after suffering a setback.
In addition to the back injury, Simmons has also dealt with mental health issues for the past several months. The 25-year-old has been a highly effective (if unconventional) player when he's been able to suit up, making the All-Star team three times in four seasons in addition to Rookie of the Year, third team All-NBA, and a couple of All-Defensive teams.
In 275 career games (33.9 minutes), all starts, Simmons holds averages of 15.9 points, 8.1 rebounds, 7.7 assists and 1.7 steals while shooting 56% from the field and 59.7% from the free throw line. He's under contract through '24/25 and will make $112.7MM over the next three seasons.