Raptors swingman OG Anunoby may be a name to watch as offseason trade talks begin to heat up, according to Jake Fischer of Bleacher Report.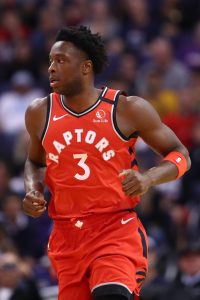 Anunoby reportedly grew frustrated at times this season as much of his ball-handling responsibility in Toronto's offense was taken over by Rookie of the Year Scottie Barnes.
However, two sources told Fischer that Anunoby hasn't informed the front office that he wants out and there is speculation that any rumors are coming from teams hoping to acquire him. Even so, the addition of Barnes could make Anunoby expendable if the Raptors are hoping to make an impactful move this summer.
According to Fischer's sources, Toronto told teams at the trade deadline that it wasn't willing to move any of its top six players: Anunoby, Barnes, Pascal Siakam, Fred VanVleet, Gary Trent Jr. and Precious Achiuwa. But the organization's desire to land a top center could change that stance. After pursuing Jarrett Allen last offseason, the Raptors talked to the Pacers about Myles Turner and Domantas Sabonis ahead of this year's trade deadline and reached out to the Spurs about Jakob Poeltl, Fischer adds.
The Jazz and Trail Blazers would reportedly be among the most interested teams if Toronto decides to part with Anunoby, who has two more guaranteed seasons left on his contract, plus a $19.9MM player option for 2024/25.
Sources tell Fischer that Rudy Gobert is one of the Raptors' prime targets for upgrading at center. Utah's management is divided on whether to part with Gobert, a three-time Defensive Player of the Year and an elite rim protector, but it could become necessary as the Jazz look to improve on the wing. Fischer notes that Toronto might have to offer Trent along with Anunoby to match Gobert's salary, which would mean parting with one of the team's only reliable outside shooters.
The Blazers are expected to offer the No. 7 pick to try to revamp its roster and Fischer states that Anunoby is one of their main targets, along with Pistons forward Jerami Grant. He notes that the Blazers have a decision to make next month on whether to guarantee Josh Hart's $12.9MM contract for 2022/23, but states that Hart and the lottery pick wouldn't be enough for Toronto to move Anunoby. Fischer adds that Anunoby is seen as more valuable than Grant, for whom Detroit is seeking two first-round picks or a first-rounder and a promising player on a rookie-scale contract.