10:08pm: The Knicks intend to offer Brunson a four-year contract worth approximately $110MM, Chris Haynes of Yahoo Sports tweets.
---
4:53pm: The Mavericks have believed for the last couple weeks that Brunson is headed to the Knicks, according to Tim Cato of The Athletic, who tweets that it's viewed as a virtual "certainty" at this point.
---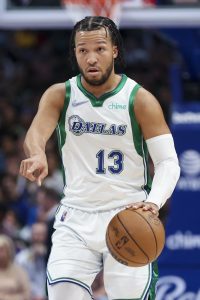 4:01pm: It's "widely anticipated" that free agent point guard Jalen Brunson will land with the Knicks in free agency on a four-year deal worth more than $100MM, reports Tim MacMahon of ESPN (Twitter link).
Marc Stein has heard similar rumblings, tweeting that there's a "growing resignation" from the Mavericks' end that New York is Brunson's first choice and his inevitable destination.
The Knicks project to have about $17MM in cap room if they waive Taj Gibson and his non-guaranteed salary, so they'd need to make at least one move to create the flexibility necessary to offer $25MM+ per year to Brunson. However, they could realistically get there by trading either Alec Burks or Nerlens Noel — both players have been involved in recent trade rumors, with Ian Begley of SNY.tv suggesting the Nets and Raptors are among the teams to register some interest in Noel.
Brunson and the Knicks have been linked to one another for months. As has been repeated ad nauseam, Knicks president of basketball operations Leon Rose is Brunson's former agent, Rose's son Sam Rose is Brunson's current agent, and Brunson's father Rick Brunson was recently hired as a Knicks assistant.
Still, the Mavericks had long projected confidence in their ability to re-sign Brunson. Although the point guard will be an unrestricted free agent, Dallas holds his Bird rights, giving the team the ability to offer him more money and more years than any other suitor. But the Mavs' confidence appears to be waning with free agency right around the corner.
According to Chris Mannix of SI.com (Twitter link), part of the Knicks' pitch to Brunson is the ability to be the full-time starting point guard. In Dallas, he's more of a secondary option at the position, with Luka Doncic running the show.
The Knicks don't view Brunson as a "potential franchise-altering savior," per Begley, but rather as an important piece of the process. The 25-year-old is considered to be a good fit for the timeline of some of New York's other young players, Begley adds.
The Mavs project to be far over the cap, limiting their ability to secure an adequate replacement for Brunson if he does head to New York. If Dallas knows Brunson is leaving, the team could attempt to work out a sign-and-trade agreement with the Knicks, but may not have much leverage to do so if New York has cap room available for a $100MM+ offer.