Quin Snyder has officially stepped down from his position as head coach of the Jazz, the team announced today in a press release. Snyder recently finished his eighth season with the organization.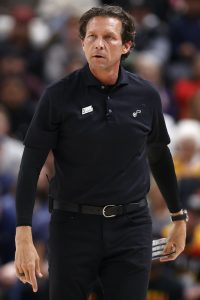 Snyder accrued a 372-264 regular-season record with Utah, making him the second-winningest coach in franchise history, behind only Jerry Sloan. He thanked the Jazz and the state of Utah in his parting remarks, explaining that he felt the team needed a different voice going forward.
"At the core, and what drives me every day is our players and their passion for the game, their desire to constantly work to improve and their dedication to the team and the Jazz," Snyder said as part of a much larger statement. "I strongly feel they need a new voice to continue to evolve. That's it. No philosophical differences, no other reason. After eight years, I just feel it is time to move onward.
"I needed to take time to detach after the season and make sure this was the right decision. I greatly respect and appreciate (team owner) Ryan (Smith), (CEO) Danny (Ainge) and Justin (Zanik's) discussions regarding moving forward together, I just know it is time. I am forever appreciative of all the players, coaches, partners, and people I have worked with at the Jazz."
The Jazz, who join the Hornets as the only franchises without a head coach, plan to immediately start searching for a replacement for Snyder, ESPN's Adrian Wojnarowski reports (via Twitter).
Utah made the playoffs six times under Snyder's leadership, but never advanced past the second round, posting an overall postseason record of 21-30 (.412). The team finished 49-33 this season and lost to the Mavericks in six games during the first round of the playoffs.
Snyder and the Jazz had been discussing a possible contract extension, but the idea that he could leave the team this spring has been out there since Marc Stein first suggested it in a pair of stories in March. According to Wojnarowski (via Twitter), talks between Snyder and the Jazz were "amicable" and their relationship is still strong, but the veteran coach simply felt it was time to move on.
Snyder's deal ran through the 2022/23 season and included a coach's option for the following campaign, according to ESPN's Tim MacMahon, who previously stated that Snyder would likely take a year off from coaching if he stepped down from the position.