The Jazz have made all kinds of noise over the past week.
They got a huge haul for All-Star center Rudy Gobert from the Timberwolves, as they will receive Malik Beasley, Patrick Beverley, Jarred Vanderbilt, Leandro Bolmaro, 2022 first-round pick Walker Kessler, four future first-rounders, and a pick swap once the deal becomes official. Three of those first-round picks are unprotected.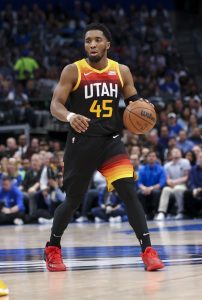 They also acquired a first-round pick from the Nets in exchange for wing starter Royce O'Neale,
Utah's front office now has to answer one lingering question — should it trade All-Star guard Donovan Mitchell and go into full rebuild mode, or quickly retool around Mitchell?
Several NBA experts, including ESPN's Adrian Wojnarowski, say the Jazz are taking the latter approach and have resisted inquiries regarding Mitchell. Other NBA insiders and executives believe Mitchell is available for the right price.
Things can change in a hurry regarding front office approaches or player trade requests, as we've seen in the Kevin Durant saga. The Jazz's long-range future is certainly brighter with those extra picks at their disposal, along with Gobert's contract coming off their books.
If they choose to deal Mitchell, they can expect a similar – and perhaps even bigger – package from the highest bidder. Mitchell is locked up contractually through the 2025/26 season and there aren't many players out there who consistently produce 25 points and five assists a game.
On the flip side, those additional assets now provide the ammo for other bold moves designed to get more quality players around Mitchell, who never seemed to truly mesh with Gobert on or off the court.
That brings us to our question of the day: Should the Jazz trade Donovan Mitchell and enter a total rebuild? Or should they focus on retooling quickly around Mitchell?
Please take to the comments section to weigh in on this topic. We look forward to your input.