It appeared early in free agency as if some momentum was building toward a trade that sent Kyrie Irving from Brooklyn to Los Angeles, but there has been no indication recently that an agreement between the Lakers and Nets is close.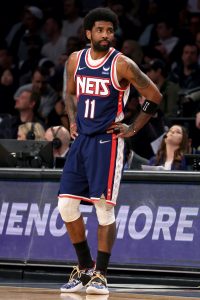 One report last week said that the vibe coming out of Brooklyn was that the Nets are comfortable entering training camp this fall with Irving and Kevin Durant still on their roster. Another report, citing a source close to Irving, suggested that Kyrie hadn't asked to be traded since opting in for 2022/23 and has "every intention" of playing in Brooklyn next season.
Appearing on ESPN's Get Up on Monday, Adrian Wojnarowski didn't rule out the possibility of Irving being traded to Los Angeles, but the language he used – referring to the talks as "not completely dead" – didn't inspire a ton of confidence.
Additionally, as NetsDaily relays, Jake Fischer of Bleacher Report said on the most recent episode of his podcast that Irving seems to be increasingly accepting of the fact that he's "overwhelmingly likely to be back in Brooklyn."
The Lakers aren't the only team that can make a trade for Irving, but they're the only one that has been seriously and repeatedly linked to him this offseason. Teams like the Mavericks, Sixers, and Heat have been floated as potential suitors, but those scenarios have been shot down pretty quickly by local beat reporters. Michael Scotto of HoopsHype described Irving's trade market last week as "Lakers or bust."
If Irving doesn't want to be in Brooklyn – and multiple reports this month have suggested he's interested in joining the Lakers – his best strategy may be to report to camp without making any waves, rebuild his value after a lost 2021/22 season, and either hope for a trade at the 2023 deadline or simply sign elsewhere when he becomes a free agent next summer.
However, it's unclear how patient Irving is willing to be. Reporting from several outlets in June indicated that he was seriously exploring other destinations and only opted into his contract with the Nets after it became clear that none of the teams on his wish list were prepared to make him a lucrative, long-term offer in free agency. If the team is able to find a suitable trade for his good friend Durant, Kyrie seems even less likely to happily stick around Brooklyn for another season.
It's also worth noting that recent reports about the Nets' willingness to open the season with Durant and Irving on their roster could simply be posturing, with Brooklyn trying to regain leverage in trade discussions. Even if a Kyrie trade isn't imminent today, we still have over two months until training camps begin — that gives the Nets plenty of time to try to find an offer they like.
With all that in mind, we want to know what you think. Which team will Irving open the 2022/23 season with? Will he remain in Brooklyn or end up elsewhere? And if he's still a Net this fall, how much longer will that last?
Vote in our poll, then head to the comment section below to share your thoughts!