After reporting on Thursday afternoon that Kevin Durant was weighing his future in Brooklyn, potentially opening the door for Kyrie Irving to leave the Nets this offseason, Shams Charania of The Athletic further addressed the situation during Thursday night's draft.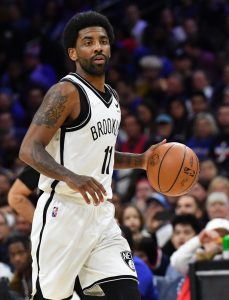 "Kevin Durant, I'm told, is seriously mulling his future options with the franchise and there's an expectation that that now opens up an opportunity for Kyrie Irving to now proceed to find a new home," Charania said (video link via Stadium). "… Whether that's an opt-in and trade, a sign-and-trade, an opt-out and sign as a free agent, Kyrie Irving, it appears, is going to find a new home. Kevin Durant has four years left on his contract with the Nets. His future right now is very much up in the air."
Although Charania's wording makes it sound as if Irving is more likely to depart Brooklyn than to return, Brian Lewis of The New York Post says Kyrie and the Nets are still believed to be seeking an agreement that will keep him with the team. According to Lewis, some people around the NBA believe the recent leaks are part of an "artfully crafted and well-coordinated bluff" from Irving's camp.
Irving's decision on his $36.9MM player option isn't due until next Wednesday, so the two sides still have several days to try to find common ground. Kyrie is said to be looking for a long-term contract, while the Nets prefer a shorter-term deal. Team owner Joe Tsai has "fully supported" management's stance against making a long-term commitment to Irving, according to Ian Begley of SNY.tv (Twitter link).
Adrian Wojnarowski of ESPN, who reported on Thursday that Irving has a list of at least six preferred destinations if he leaves the Nets, reiterated on ESPN's Get Up on Friday (video link) that the Lakers appear to have the "most interest" in the seven-time All-Star.
However, given the Lakers' lack of trade assets, Irving's only real path to the team might be to opt out and sign for the $6.3MM taxpayer mid-level exception. Given that he and the Nets reached an impasse over how long his deal would be, it seems unlikely that he'd settle for a one-year deal and a $30MM pay cut.
According to Wojnarowski, a few of the other teams on Irving's reported wish list – including the Mavericks, Clippers, and Sixers – are unlikely to have legitimate interest. The Knicks created some additional cap flexibility with their moves in Thursday's draft, but are prioritizing free agent point guard Jalen Brunson over Irving, says Wojnarowski.
Still, despite an apparent lack of logical landing spots for Kyrie, Wojnarowski (video link) describes the Nets' situation as "perilous" due to the ripple effect it could have on Irving's good friend Durant. According to Woj, Durant isn't a lock to request a trade if Irving leaves, but he'd want the Nets to show him that they could still build a championship-caliber roster around him.
"KD wanting to remain with the Nets is not necessarily contingent on if Kyrie Irving walks," Wojnarowski said during a TV appearance, according to Lewis. "That, if he walks, he wants to see what the roster could still look like, how it could be reshaped, how it can still be a championship contender. (Durant is) starting that new four-year max deal. This isn't the transfer portal. You don't get to say where you'd like to go. So if he decided and wanted and asked for a trade — which I'm told he's not told the Nets he's going to do or is ready to do — he's probably not going to have a lot of say in where he goes.
"So that has to be part of (Durant's) thinking if he does ask out of Brooklyn," Woj continued. "But right now, I still think there's a pathway for the Nets, for Kyrie Irving, for Kevin Durant to find a way forward together. But it's murky, and it's uncertain. The future of this Nets organization very well is going to be determined here in the next several days to a week."