Nets star Kevin Durant is monitoring Brooklyn's situation and "considering options with his future," sources tell Shams Charania of The Athletic (Twitter link). While Charania's report is vague, it suggests Durant may not be completely satisfied with his current situation despite being under contract for the next four years.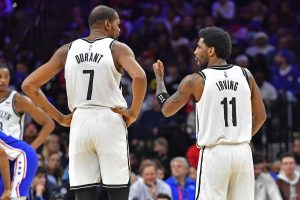 The Nets' negotiations with Kyrie Irving figure to be a crucial factor in Durant's deliberations, as Adrian Wojnarowski of ESPN detailed earlier this week. Irving and the Nets were said on Monday to be at an impasse in their contract talks, and Kyrie and KD are close, so their futures may be connected — if one leaves Brooklyn, the other would likely be more inclined to follow suit.
According to Charania, Durant's deliberations open a path for Irving to look more seriously at finding a new home via opt-in and trade.
Meanwhile, sources tell Adrian Wojnarowski of ESPN (Twitter link) that Irving has a list of teams he would like Brooklyn to consider in sign-and-trade scenarios if he and the Nets don't reach a new agreement, including the Lakers, Clippers, Knicks, Heat, Mavericks, and Sixers. Those are teams Irving is interested in, though not all of them would necessarily reciprocate that interest and make him a top priority, Wojnarowski adds (via Twitter).
Irving has a $36.9MM player option that he must make a decision on by next Wednesday. Picking up that option would mean he either returns to Brooklyn or relies on the Nets to trade him. Declining it would make him an unrestricted free agent, in which case he could either re-sign with the Nets or join a new team, possibly via sign-and-trade.
Teams that will be over the tax apron (projected to be approximately $155MM) for the 2022/23 season would be ineligible to acquire a player via sign-and-trade. Of the teams on Irving's wish list, the Lakers, Clippers, and Mavericks are all on track to be well above the apron, while the Heat and Sixers also aren't locks to stay below it. That would complicate sign-and-trade scenarios, so Irving's best route to changing teams without taking a massive pay cut would be with an opt-in-and-trade.
As ESPN's Bobby Marks observes (via Twitter), Irving's current contract includes a 15% trade bonus, so if he were to exercise his player option and be traded without waiving that bonus, his salary for 2022/23 would increase to over $42MM, with the Nets responsible for paying the extra $5.5MM.
Irving is seeking a lucrative long-term contract this offseason, while the Nets have reportedly been pushing for a shorter-term deal. If the two sides can find common ground, Irving and Durant both seem like good bets to remain in Brooklyn, but the fact that both stars are now said to be considering their options isn't great news for a Nets team that already had to trade away one superstar earlier this year when James Harden asked out.