In an expansive interview with Mike Singer of the Denver Post, new Nuggets reserve center DeAndre Jordan spoke about his hopes for his 2022/23 tenure in Denver.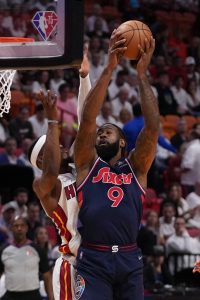 According to Jordan, a recruiting pitch from Denver forward Jeff Green – who was previously Jordan's teammate on the Nets and Clippers – and a lengthy conversation with head coach Michael Malone helped convince the veteran center to make the leap to another contender, following a 2021/22 season split between the Lakers and Sixers. The 34-year-old, on the cusp of his 15th NBA season, inked a single-season deal with the Nuggets in the hopes of winning a title.
A former All-Star and two-time All-NBA Third Team honoree, Jordan is well aware of what his role with his new club will be.
"Obviously everybody knows that Nikola (Jokic) is the head of the snake," Jordan said. "So with that, my role being obviously coming off the bench, helping our second unit with pace, screens and getting guys open, getting guys better shots and also finishing everything that I can in transition, offensive rebounds, controlling the glass for our unit, also being a defensive presence for however long I'm out there."
Despite recent evidence to the contrary in his stops with the Nets, Lakers and Sixers, Denver is optimistic that Jordan can roll back the clock to somewhat resemble his All-Defensive First Team self, when the 6'11" vet was a productive, rim-running force on offense and a mobile athlete on defense.
Here are more highlights from the interview, well worth a read:
Jordan discussed his primary motivation for latching on with the Nuggets, a team that expects to compete for a championship thanks to the healthy returns of secondary stars Jamal Murray and Michael Porter Jr., alongside reigning two-time MVP Jokic. Murray, who missed all of the 2021/22 season as he recovered from an ACL tear, was a crucial player on a 2020 Nuggets club that clawed its way into the Western Conference Finals. Porter also played a big part on that time, before a back surgery limited him to just nine games played last year. "I'm going into my 15th year, man, I was a second-round pick, I've done a lot of great things in this league, individually and also with the teams that I've been on," Jordan said. "I know the respect that I have from myself, and also that my peers have for me … (Winning a title) is the only thing that still drives me at this point in my career." 
When asked whether or not he'd be okay with occasionally being a healthy scratch, as dictated by certain matchups, Jordan responded tactically. "That's something we'll get to when it comes to personnel," he said. Across 48 games played with Los Angeles and Philadelphia last year, Jordan averaged 4.3 PPG on 64.3% shooting, plus 5.5 RPG and 0.7 BPG in 13.0 MPG.
Part of what drew to the Nuggets to Jordan is his locker room leadership, and he acknowledged he plans to make an impact off the court. "Ever since I was with the Clippers, in my younger days, I learned from some great veterans about being a great locker room presence even if things weren't going my way," Jordan said. "I've done that throughout my career, and I think that that's something I've prided myself on."