In a face-to-face meeting with Nets owner Joe Tsai in London on Saturday, star forward Kevin Durant reiterated his desire to be traded and gave Tsai an ultimatum, reports Shams Charania of The Athletic.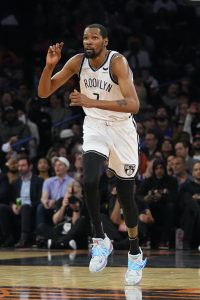 According to Charania, Durant told the Nets owner that he needs to choose between trading him or firing general manager Sean Marks and head coach Steve Nash. Durant said that he doesn't have faith in the team's direction, sources tell The Athletic.
Charania says his sources described Saturday's meeting as "transparent and professional," adding that the Nets have "direct knowledge of the reasons behind Durant's request" and have reason to believe he'll be resolute in his stance. People around the NBA have speculated about the possibility that the two-time Finals MVP won't report to training camp if the Nets don't make a deal within the next seven weeks, per Charania.
Sources tell The Athletic that Brooklyn has spoken to nearly every team in the NBA about a possible Durant trade, but no club has met the Nets' "sky-high" asking price. According to Charania, the Celtics, Heat, and Raptors are widely viewed as the most legitimate suitors for the 33-year-old, who is entering the first season of a four-year, maximum-salary extension.
Charania cites sources who say that Tsai and the Nets have "made clear privately that they will take every last asset from a team that trades for Durant." However, it's hard to see how the team has the leverage to make that sort of deal, given these latest developments in the summer saga.
Of course, Marks and Nash held their current positions when Durant signed that four-year extension a year ago, and the star forward was believed to have played a role in Nash's hiring in the first place, back in 2020. It's unclear why Durant has soured to such a significant extent on Brooklyn's leadership group.
It's possible Durant's dissatisfaction is related, at least in part, to the team's handling of his good friend Kyrie Irving. The Nets refused to allow Irving to be a part-time player during the first half of last season when vaccine requirements prohibited him from playing home games. The club then opted against offering Kyrie a lucrative long-term extension this offseason.
While recent reports have indicated that Irving plans to be a Net to start the 2022/23 season, there's a belief that Brooklyn will seriously consider trading him if and when the team finds a Durant deal it likes.