This is the fifth installment in our series examining players who are prime candidates for contract extensions. This series will explore the player's strengths and weaknesses, and will evaluate what a fair deal between the player and his team might look like. We're continuing today with a look at an athletic big man with one of the league's best floaters.
---
Rundown:
The No. 21 overall pick of the 2019 draft after three college seasons (the last at Gonzaga), forward Brandon Clarke was technically drafted by the Thunder, who traded his rights to the Grizzlies for the No. 23 overall pick – used on Darius Bazley — and a 2024 second-rounder. Considering Bazley is probably more likely to be waived entering 2022/23 than to receive a rookie scale extension, and Clarke is well-positioned to land a significant payday, it obviously turned out to be a shrewd move by Memphis.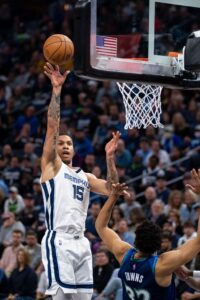 Clarke made an immediate impact in year one, earning a spot on the All-Rookie First Team after averaging 12.1 PPG and 5.9 RPG while shooting 61.8% from the floor and 75.9% from the line in 58 games (22.4 MPG). He even showed the ability to space the floor at times, though on very low volume: he converted 35.9% of his 64 three-point attempts on the season.
In year two, Clarke was still productive, but he developed a hitch in his shooting motion that caused his percentages to fall across the board. In 59 games (24.0 MPG), he averaged 10.3 PPG, 5.6 RPG, 1.0 SPG and 0.9 BPG on .517/.260/.690 shooting. He only attempted 1.3 threes per game, so the dip of almost 10% in that category wasn't nearly as impactful as the 9.3% drop on twos (65.8% to 56.5%).
Instead of focusing on his weaknesses entering his third season in '21/22, Clarke chose to enhance his strengths, and the decision paid off with arguably his finest campaign. In 64 games (19.5 MPG), he averaged 10.4 PPG, 5.3 RPG and 1.1 BPG while shooting 64.4% from the field and 65.4% from the line. He all but eliminated the long-distance shot from his arsenal, attempting just 22 threes (converting five, for a 22.7% rate).
Clarke was instrumental in leading the Grizzlies past the Timberwolves in their first-round playoff series last season, averaging 16.5 PPG, 9.0 RPG, 2.7 APG and 1.0 BPG while shooting 67.9% from the floor and 65.7% from the line in six games (29.4 MPG). He also pulled down 3.8 offensive boards per contest, and second-chance points were a huge problem for Minnesota. The Warriors' elite defense was much more effective in neutralizing Clarke in their second-round series, limiting him to 8.2 PPG and 4.8 RPG with a 51.4% mark from the field and 68.4% from the line in six games (20.0 MPG).
Strengths:
In a league full of incredible athletes, Clarke is a true standout as one of the NBA's best. He knows how to harness his athleticism to his advantage in multiple ways, making him a unique and versatile player.
Clarke is a matchup problem as a big man because he's got a very quick first step and has pristine timing for making cuts when defenders aren't paying attention. He plays with great energy on both ends of the floor, creating extra possessions by hustling for loose balls.
Clarke is a constant pick-and-roll lob threat who is capable of some jaw-dropping dunks. His terrific body control allows him to twist and contort in the air for acrobatic finishes on plays that look like they should be blown up, a rarity for a player his size. Had he qualified, his field goal percentage would have ranked fourth in the NBA last season, and his true shooting percentage (66.0%) ranked fifth.
One of the primary reasons his rim-running is so effective is because Clarke has one of the best floaters in the league. According to Basketball-Reference, 31.1% of Clarke's shot attempts came from between three and 10 feet and he converted 56.8% of those looks – an elite mark. If a shorter player is on him, he'll simply rise up over them; if it's a bigger player, he'll use his quickness to create space and pull up with feathery-soft touch.
Clarke is an explosive two-footed leaper (40.5″ vertical) with great timing and instincts for blocking shots, ranking in the 93rd percentile of all players in block percentage (4.7%) last season, per DunksAndThrees.com. A quick second jump and a nose for the ball also make him a strong offensive rebounder — his 11% offensive rebounding percentage ranked in the 90th percentile.
Part of what makes the Grizzlies an exciting team to watch is their ability to force a lot of turnovers and excel in transition, and Clarke plays a big part in that. He possesses great speed, is a good enough dribbler to start a fast break, and is an unselfish get-ahead passer in addition to being a tremendous finisher.
He isn't often asked to make plays for others, but Clarke makes quick, decisive reads with the ball in his hands and is an intelligent ball-mover who rarely turns it over. He posted a 2.53-to-1 assist-to-turnover ratio in '21/22, and his 6.3 turnover percentage would have ranked seventh in the NBA had he qualified, both excellent marks for any player, let alone a power forward.
Finally, Clarke is also a solid defender who can switch across multiple positions. He does a good job limiting his fouls, forcing turnovers (3.1 steals plus blocks per 36 minutes last season), and is an above-average rebounder.
Improvement Areas:
At 6'8" and 215 pounds with a 6'8.25" wingspan, Clarke is built more like a plus-sized wing than a big man. While he's able to compensate to an extent with his non-stop motor, top-notch athleticism and court awareness, he's still at a size disadvantage the majority of the time.
There aren't many players with the post games to exploit Clarke's relative lack of size, but it's definitely problematic when the situations arise. He's stronger than his frame suggests, but he simply lacks the bulk to compete with behemoths down low.
The hitch in Clarke's jump shot never went away, with his free throw percentage dropping in each of the past two seasons. As deadly as his floater is, its range is still limited, which means that he functions more like a center on offense even though he spends the majority of time at power forward, making him somewhat matchup dependent.
Clarke benefited from the versatility of Kyle Anderson and Jaren Jackson Jr. as frontcourt partners who could make plays and space the floor. However, Memphis let Anderson walk in free agency (to Minnesota) and Jackson is injured to start the season, so Clarke may have to fend for himself in '22/23.
Even though he's the best reserve big man on the roster, Clarke isn't necessarily an obvious replacement for Jackson in the starting lineup alongside another non-shooter in Steven Adams. It will be interesting to see how head coach Taylor Jenkins toggles the lineups, because he has typically staggered the minutes for Clarke and Adams due to spacing concerns – the two only shared the court for 165 minutes over 32 games last season, 10 fewer minutes than the garbage time pairing of Jarrett Culver and Xavier Tillman, per NBA.com.
Clarke is a decent ball-handler for a player who plays almost exclusively in the frontcourt, but he's not particularly adept for someone his size. If he tightened his handle, he'd be able to exploit his speed advantage even more.
Conclusion:
Clarke has proven to be a high-level role player for the Grizzlies and a steal at No. 21 overall. The fact that Memphis didn't re-sign Anderson in free agency could be a sign that Clarke is in the team's long-term plans, and for good reason.
His energy, athleticism, efficiency and high basketball IQ have made Clarke of the league's best bargains on his rookie deal, which paid him a combined $12.15MM over four years (ending in '22/23). He could equal or surpass that total in annual average salary on his next contract.
At 26 years old, Clarke is one of the oldest players in the 2019 draft class. Some might say that's a negative. Yet despite coming off the bench, he has led the class in win shares and trails only teammate Ja Morant in value over replacement player through three seasons, per Basketball-Reference.
Another positive about Clarke being a few years older than his draft peers is that he doesn't need more time to develop — he's already very good — and he's about to enter his prime years. That's not to imply he can't continue to improve, but instead of paying him for what he might become, whichever team ends up paying him (he'll be a restricted free agent if he doesn't sign an extension) will be getting a player who already contributes a lot to winning.
If I were representing Clarke, I would point to the deals signed by Marvin Bagley III (three years, $37.5MM) and Chris Boucher (three years, $35.25MM) as a baseline, because Clarke is a more well-rounded and better all-around player than both of them have been over the past three seasons.
Clarke's game is probably most similar to Richaun Holmes' — another undersized, energetic and athletic big man with an elite floater who's also a great finisher. Holmes got $46.5MM over four years in the 2021 offseason. However, I think Clarke is more valuable than Holmes as well, because he's more versatile on both ends of the court, fouls less, and is a much better passer and decision-maker (Holmes is stronger and a better shooter).
Mitchell Robinson's four-year, $60MM deal seems a little high for Clarke, but it depends on how the Grizzlies value him. If he puts up big numbers this season and they view him as the long-term starter at power forward with Jackson at center, it could be within reach as a restricted free agent next summer.
The problem with that is the deadline for his rookie scale extension is the day before the '22/23 season tips off, and I don't think the Grizzlies will go that high right now. If an extension is reached, I think Clarke will receive something close to the four-year, $50MM deal Wendell Carter signed a year ago.