This is the third installment in our series examining players who are prime candidates for contract extensions. This series will explore the player's strengths and weaknesses, and will evaluate what a fair deal between the player and his team might look like. We're continuing today with a look at a former lottery pick who was an important role player for a 64-win team last season.
---
Rundown:
The Suns shocked a lot of people by selecting Cameron Johnson with the No. 11 overall pick of the 2019 draft, as many scouts had him rated as a late first-rounder. He was technically drafted by the Timberwolves, who traded him along with Dario Saric to acquire the No. 6 pick, used on Jarrett Culver – an unmitigated disaster of a deal for Minnesota.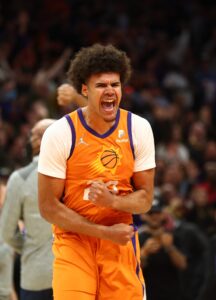 Part of the reason Johnson was rated lower than where he was drafted was that he was an older prospect. After receiving a redshirt for his freshman year, he wound up playing a full four years afterward – he spent his first few college seasons with Pittsburgh before transferring to North Carolina.
Johnson quickly quieted those critical of the move with a solid rookie season in 2019/20, appearing in 57 games (22.0 MPG) while averaging 8.8 PPG and 3.3 RPG on .435/.390/.807 shooting (.586 true shooting percentage).
His statistics were quite similar in year two: 9.6 PPG and 3.3 RPG on .420/.346/.847 shooting (.563 true) in 60 games (24.0). He was even better during Phoenix's lengthy postseason run to the Finals, providing a ton of value with his sharpshooting – in 21 playoff games (21.1 MPG), he averaged 8.2 PPG and 3.1 RPG on .500/.466/.906 shooting (.693 true – a phenomenal mark).
Johnson had a breakout third season in '21/22, finishing third in Sixth Man of the Year voting after appearing in 66 games (26.2 MPG) with averages of 12.5 PPG and 4.1 RPG on .460/.425/.860 shooting. Among non-centers who averaged at least 12 PPG in 50 or more games, Johnson was fourth in the league in true shooting percentage (.625), trailing only Kevin Durant, Giannis Antetokounmpo and teammate Mikal Bridges.
Despite a disappointing second-round loss to Dallas, the 26-year-old had another strong individual playoff showing offensively last season, putting up 10.8 PPG and 3.5 RPG on .465/.373/.813 shooting (.619 true) in 13 games (24.6 MPG).
Strengths:
Johnson has proven to be a very efficient role player, and more than worthy of his draft slot. His shooting creates space for teammates, which is always valuable.
While he's primarily known for his outside shooting, which he's very good at (39% career from three, including 43.8% from the corners), Johnson is an underrated finisher as well. He shot 71% at the rim last season, which was in the 88th percentile of all players, per DunksAndThrees.com.
Johnson is a very self-aware player, particularly on offense. He doesn't try to do too much, which is a good thing for a complementary player – his 6.7% turnover percentage was the 11th-best mark in the NBA in '21/22, per Basketball-Reference. He isn't asked to make plays for others very often, but he makes quick decisions if he isn't open and is a willing passer – his career assist-to-turnover ratio is 2.13-to-1, which is a strong mark for a forward.
Phoenix's offense, which ranked fifth in the league last season, could really soar if head coach Monty Williams gives Johnson a bigger role – he thrived in 16 games as a starter in place of Jae Crowder, averaging 16.3 PPG and 4.9 RPG on .492/.420/.912 shooting (.659 true).
Improvement areas:
At 6'8″ and 210 pounds, Johnson is slender for a power forward, his primary position. He lacks the strength to defend stronger players down low – Luka Doncic repeatedly exploited that fact during the playoffs.
Most advanced stats rated Johnson as a slightly above average defender, but that doesn't pass the eye test – in most matchups he's not a liability, but I think he's closer to league average than above. He does certain things well – he's pretty quick on his feet, does a good job of staying vertical when contesting shots, and rarely commits fouls.
However, he's a below average rebounder, and while opponents shot 1.0% worse than expected with Johnson defending them during the regular season, they shot 3.3% better than expected in the playoffs, per NBA.com. Forcing turnovers isn't the be-all and end-all when it comes to defense, but Johnson isn't very good at that either – he recorded 0.9 steals and 0.2 blocks per game in '21/22.
Adding strength would help a lot, on both ends of the court. He's already a very good finisher, but he doesn't get to the free throw line much – adding some muscle would aid him in that regard. And while he's a smart decision-maker, his ball-handling is pretty mechanical.
Conclusion:
Johnson is going to land a big payday on his next contract, the only question is when and from whom. As was the case with Deandre Ayton, luxury tax concerns will likely limit Phoenix's interest in giving Johnson a hefty long-term extension (the Suns matched Ayton's four-year maximum-salary offer sheet from the Pacers, but they could have given him more money – and an additional year – and chose not to).
If I were representing Johnson, I wouldn't accept a team-friendly discount in the range of $60MM over four years, because he'd provide value to any NBA team with his highly efficient offensive game and (mostly) adequate defense. Whether he might be open to that is something only he knows.
The Spurs' Keldon Johnson received a four-year extension with a base value of $74MM, and even though he's four years older, I think Cameron will end up getting a deal similar to that. Despite the possibility of facing the repeater tax, I would imagine Phoenix would match a contract in that range when Johnson reaches restricted free agency next summer, but I'd be a little surprised if they offer it in an extension before the season starts.
If his agents try to point to his teammate Bridges as a reference point, I think that would be a mistake – Bridges is in a completely different class as a defender and is a better overall player. He received a four-year, $90MM extension from the Suns prior to last season, so I think Johnson will get less than that. Something in the range of $70-80MM sounds about right.