Joe Mazzulla is expected to have his interim tag removed and sign a long-term contract to remain head coach of the Celtics, supplanting the suspended Ime Udoka, but it may not occur until after the 2022/23 season ends, ESPN's Adrian Wojnarowski reported (video link) on SportsCenter on Wednesday (hat tip to RealGM).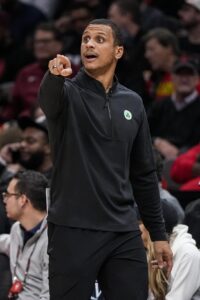 "Everything is aligned and in place for Joe Mazzulla to be the long-term coach for the Boston Celtics, except for one thing: Ime Udoka is technically still the head coach of the Boston Celtics, on suspension," said Wojnarowski. "For all intents and purposes, he has coached his last game in Boston. This is uncharted territory, certainly. Unless Ime Udoka takes another job this season elsewhere, it still may be an interim label until the end of the year.
"Mazzulla has handled this very well. He has a locker room of key players who were very fond of Udoka and still very fond of him. (Mazzulla) has certainly navigated that. He had his own relationships. You have seen him command the respect of this group, but how this team has performed. Continuing at a very high level.
"There's every indication that interim status will eventually leave and he'll be on a long-term deal as the Celtics' coach, but it may not be until after the season."
While this may have been surprising news prior to the season considering Udoka led the Celtics to the NBA Finals as a first-time head coach in '21/22, as Wojnarowski noted, Boston hasn't missed a beat under Mazzulla, currently sporting the NBA's best record at 12-3. The Celtics have the No. 1 ranked offense and best net rating (plus-7.7) in the league thus far, per NBA.com.
Mazzulla was an assistant with the Celtics for three seasons prior to being named interim head coach. At 34 years old, he's the youngest head coach in the NBA (he's six months younger than Jazz head coach Will Hardy, who is also 34).
In addition to being seemingly unfazed by the controversy of Udoka's suspension, Mazzulla has navigated long-term injuries to free agent acquisition Danilo Gallinari (offseason torn ACL) and starting big man Robert Williams (offseason knee surgery). Both players have yet to play this season, with Gallinari likely to miss the entire '22/23 season.
Speaking of Williams, Abby Chin of NBC Sports Boston reported last night (via Twitter) that the big man hasn't experienced any setbacks during his recovery process and has been cleared for non-contact work. Williams told Chin that his return timeline remains unchanged.
The Celtics announced that Williams would miss eight-to-12 weeks in late September, so that's the timeline he's referring to, though a report last month indicated he might be out longer than that after receiving a PRP injection. Either way, it's an encouraging sign for Williams that things appear to be on track after March meniscus surgery limited him during last season's playoff run.