The Nets have announced in a press statement (via Twitter) that they have suspended Kyrie Irving for at least five games, without pay.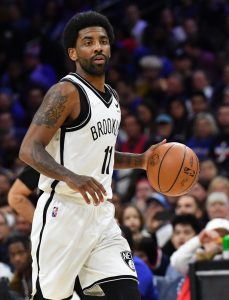 After Brooklyn's starting point guard promoted a film peddling a variety of falsehoods that has widely been criticized as antisemitic on his personal Twitter account last week, pushback was decidedly muted at first. The NBA and NBPA both issued statements denouncing antisemitism broadly, without mentioning Irving by name (Irving is a vice president on the NBPA). Nets majority owner Joe Tsai expressed his disappointment with Irving, noting he would like to "sit down" with Irving to discuss why amplifying hateful media can be hurtful.
Irving then had a combative exchange with reporters, specifically Nick Friedell of ESPN, during a Saturday postgame presser, having left the offending tweet online. Irving ultimately relented, deleting the post on Sunday. The Nets subsequently opted to withhold Irving from further media interactions for the next several days, with team president Sean Marks claiming he wanted to let the seven-time All-Star "simmer down" before speaking with reporters further.
The Nets and Irving issued a joint statement with the Anti-Defamation League on Wednesday, in which both the point guard and his team pledged to donate $500K each to the ADL. Irving at no point in his comments issued a formal apology to the Jewish community. NBA commissioner Adam Silver criticized that statement today with a response of his own, like Tsai saying he intended to meet with Irving to discuss the hurtful content of the documentary and his lack of a full apology.
Today, during his first remarks to the press since the weekend, Irving still stopped short of actually formally apologizing, Friedell writes. "I take my responsibility for posting that," Irving told gathered reporters. "Some things that were questionable in there, untrue. Like I said in the first time you guys asked me when I was sitting on that stage, I don't believe everything that everybody posts — it's a documentary."
Regarding the film's lie that the Holocaust did not transpire, Irving did make a point of acknowledging that was inaccurate.
"Those falsehoods are unfortunate," Irving allowed. "And it's not that I don't believe in the Holocaust. I never said that. Never, ever have said it. It's not come out of my mouth. I never tweeted it. I never liked anything like it. So the Holocaust in itself is an event that means something to a large group of people that suffered something that could have been avoided."
Friedell notes that reporters then inquired as to whether Irving himself possessed any antisemitic beliefs, and he somewhat danced around a direct response.
"I don't know how the label becomes justified because you guys ask me the same questions over and over again," Irving said. "But this is not going to turn into a spin-around cycle — questions upon questions.. I told you guys how I felt. I respect all walks of life and embrace all walks of life. That's where I sit. … I cannot be antisemitic if I know where I come from." 
Despite Irving's pledge to the ADL, sources inform Adam Zagoria of NJ.com that Irving has yet to actually meet with the ADL for a conversation. The ADL's CEO, Jonathan Greenblatt, responded to the Nets point guard's Thursday remarks (Twitter links).
"The answer to the question 'Do you have any antisemitic beliefs' is always 'NO' without equivocation," Greenblatt wrote in part. "We took @KyrieIrving at his word when he said he took responsibility, but today he did not make good on that promise. Kyrie clearly has a lot of work to do."
That brings us to the present, and the Nets' decision.
"Over the last several days, we have made repeated attempts to work with Kyrie Irving to help him understand the harm and danger of his words and actions, which began with him publicizing a film containing deeply disturbing antisemitic hate," Brooklyn's statement began. "We were dismayed today, when given an opportunity in a media session, that Kyrie refused to unequivocally say he has no antisemitic beliefs, nor acknowledge specific hateful material in the film. This was not the first time he had the opportunity – but failed – to clarify.
"Accordingly, we are of the view that he is currently unfit to be associated with the Brooklyn Nets. We have decided that Kyrie will serve a suspension without pay until he satisfies a series of objective remedial measures that address the harmful impact of his conduct and the suspension period served is no less than five games."
Greenblatt, meanwhile, issued a statement saying that the ADL will not accept Irving's $500K donation since it's clear he feels "no accountability for his actions" (Twitter link via Ian Begley of SNY.tv).
Irving is currently earning $36,503,300 for the 2022/23 season. As Bobby Marks of ESPN notes (Twitter link), he will forfeit $251,747 for each game of his suspension — 1/145th of his total salary.
The open-ended nature of Brooklyn's penalty suggests that the club may require some level of quantifiable contrition before Irving is allowed to return.