Just two years after requesting a trade out of Houston, star Sixers guard James Harden is seriously mulling the possibility of returning to the Rockets when he becomes eligible for free agency in the summer of 2023, reports Adrian Wojnarowski of ESPN.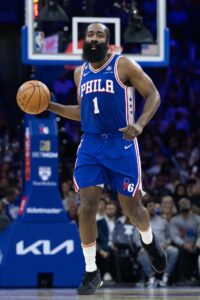 According to Wojnarowski, Harden and his camp have been "openly weighing Houston in recent weeks and months."
Wojnarowski describes the city as having a "magnetic pull" on the former MVP due to the community, lifestyle, and family he had there. Having spent seven-and-a-half years of his NBA career with the Rockets, Harden could choose to return to Houston if he opts for "comfort and familiarity" over a chance to immediately contend for a title, Woj writes.
However, that doesn't mean Harden is set on leaving Philadelphia. The Sixers have been on a roll lately and Harden's on-court partnership with Joel Embiid finally seems to be firing on all cylinders. If that success continues and the team enjoys a deep playoff run in the spring, the 33-year-old guard would likely become more inclined to stick around beyond this season, Wojnarowski writes.
A free agent this past summer, Harden could have signed with the 76ers for up to five years, but decided to negotiate a shorter-team deal, signing a two-year, $68.6MM pact with a player option for the second season.
The contract – which saw Harden accept a significant pay cut – freed up space under the hard cap for Philadelphia to add a couple free agents (P.J. Tucker and Danuel House). There was a belief outside the organization that the agreement came with an understanding that Daryl Morey and the Sixers' front office would be willing to offer Harden a more lucrative long-term contract next summer.
Although Harden has connections with Morey and CEO Tad Brown in Philadelphia, his working relationships with Embiid and head coach Doc Rivers are more of a "work in progress," according to Wojnarowski.
However, as Wojnarowski points out, the current version of the Rockets isn't the same one Harden remembers — his exit came just after Morey and longtime head coach Mike D'Antoni left the organization, and the roster has also undergone a major overhaul in recent years. If Harden is legitimately interested in returning to Houston, the franchise would have to consider how reacquiring him would impact the development of core pieces like Jalen Green, Jabari Smith, and Kevin Porter, Woj observes.
For what it's worth, Houston projects to have a substantial chunk of cap space, so from a practical perspective, signing Harden as a free agent would be doable. ESPN's Bobby Marks (Twitter link) has the club projected at about $45MM in cap room, and that number would increase without Eric Gordon's $20.9MM non-guaranteed salary on the books.
Harden, who has made 10 consecutive All-Star teams, has missed some time due to injury this season, but has been productive when healthy, averaging 21.4 points, 10.9 assists, and 6.6 rebounds in 37.8 minutes per night. His .364 3PT% is his highest mark since 2018/19.