DECEMBER 1: Middleton intends to make his season debut on Friday, Adrian Wojnarowski of ESPN confirms (via Twitter).
---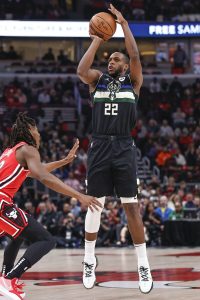 NOVEMBER 30: Bucks wing Khris Middleton is getting close to making his season debut, according to Shams Charania of The Athletic, who reports (via Twitter) that Middleton could be available as soon as Friday when Milwaukee hosts the Lakers.
A three-time All-Star, Middleton underwent wrist surgery in the offseason to repair a torn ligament and has spent the last several months recovering and working his way back to full health. He has been assigned to the G League multiple times this month in order to practice with the Wisconsin Herd, Milwaukee's NBAGL affiliate.
When Middleton first went under the knife, reports indicated that he might be ready to return around the start of the regular season. On the day before the season got underway, another report suggested the Bucks were hoping to have him back at some point in November.
The 31-year-old has been ruled out for Wednesday's contest against the Knicks, so a November return won't happen, but if he's back on Friday, he'll be available for Milwaukee's first December game. Following the game vs. the Lakers, the Bucks will embark upon a brief road trip to Charlotte on Saturday and Orlando on Monday.
Middleton had another productive season in 2021/22, averaging at least 20 points per game (20.1) for a third straight season to go along with 5.4 RPG and a career-high 5.4 APG in 66 games (32.4 MPG). However, a sprained MCL sidelined him during the postseason and he was unavailable when the Bucks fell to Boston in a seven-game second round series.
Milwaukee has gotten off to a good start this season, even with Middleton and offseason signee Joe Ingles (ACL) on the shelf. The club's 14-5 record is the NBA's second-best mark.