6:15pm: Sarver has issued a statement, confirming that an agreement has been reached between him and brothers Mat and Justin Ishbia regarding the purchase of the majority stake in the Suns and WNBA's Mercury, Charania tweets. The agreement values the Suns and Mercury at $4 billion.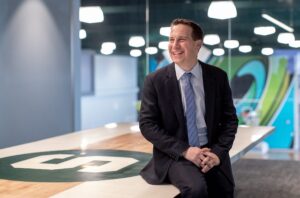 The deal involves more than 50% ownership of the team, including all of Sarver's interest, and a portion of the interest of minority partners. Mat Ishbia will serve as governor, while Justin Ishbia will serve as alternate governor, pending league approval.
---
12;05pm: Mat Ishbia, a billionaire mortgage lender, is finalizing a deal to buy the Suns, reports ESPN's Adrian Wojnarowski. Ishbia will pay about $4 billion, according to Wojnarowski, which would be a record price for an NBA team. The WNBA's Phoenix Mercury will also be part of the deal, Woj adds.
Ishbia is chairman and CEO of United Wholesale Mortgage, which is based in Michigan, and he has a net worth of $5.1 billion, per Forbes. He played college basketball at Michigan State from 1999 to 2002 and won a national championship in 2000. He was part of a group that tried to buy the NFL's Denver Broncos earlier this year, according to Mike Florio of NBC Sports.
Mat's brother, Justin Ishiba, will be "a significant investor" as well and will serve as an alternate governor for the team, sources tell Shams Charania of The Athletic (Twitter link).
Current Suns owner Robert Sarver decided to sell the team in September following a lengthy investigation into workplace conditions. The NBA suspended Sarver for a year and fined him $10MM for behavior that "clearly violated common workplace standards."
The law firm of Wachtell, Lipton, Rosen & Katz, which conducted the investigation, determined that Sarver had used racially insensitive language in the workplace, made inappropriate comments about female employees and treated workers in general in a "demeaning and harsh" manner.
In a statement issued when he decided to sell the Suns, Sarver said he "deeply" regrets the comments he made to employees and vowed to "work on becoming a better person." He also expressed disappointment at not being able to return to running the team and "make amends" for his behavior.
Sarver purchased the Suns in 2004 for $401MM, so he will realize a huge profit from the sale. The current record price for an NBA team is $2.35 billion, which Joe Tsai paid for the Nets in 2019. As Wojnarowski notes, the Lakers sold a minority share based on a $5 billion valuation, but that deal only involved a small portion of the team's ownership changing hands.
Although Sarver only owned about one-third of the Suns' shares, he has the authority to sell the team in full as its managing partner, sources tell ESPN. Mat Ishbia will have to undergo a background check and his purchase of the franchise will be subject to a vote by the NBA's Board of Governors, but that's expected to be a formality, per Wojnarowski.
Luke Adams contributed to this story.