After consulting with the NBA, the Heat have suspended backup center Dewayne Dedmon for one game without pay for conduct detrimental to the team, tweets Tim Reynolds of The Associated Press.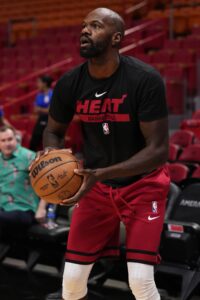 As Ira Winderman of The South Florida Sun Sentinel notes (via Twitter), Dedmon cannot be sanctioned further by the NBA after being suspended by the Heat due to a "no double-jeopardy" rule.
Dedmon was suspended for an incident during Tuesday's victory over Oklahoma City. After being subbed out of the game less than three minutes into the second quarter, he got into an argument on the sidelines with head coach Erik Spoelstra and assistant Caron Butler.
When the big man, visibly angry, left the bench and began walking toward the locker room, he swatted at a Theragun and sent the massage device flying onto the court in the middle of play (video link via Bleacher Report). Dedmon was ejected from the game for the incident.
The 33-year-old has dealt with plantar fasciitis in his left foot in 2022/23, which has limited his effectiveness. Through 29 games, he's averaging 5.9 points and 3.7 rebounds on .512/.306/.727 shooting in 11.7 minutes per contest.
Dedmon makes $4.7MM this season, so he will lose approximately $32K as a result of the one-game suspension.