Mavericks guard Spencer Dinwiddie appeared in his 50th game of the season on Saturday in Utah, reaching an important contract-related milestone. As Bobby Marks of ESPN tweets, Dinwiddie's 50th appearance earned him a $1.5MM bonus this season and ensured that his 2023/24 salary will now be fully guaranteed.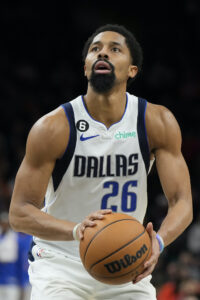 When Dinwiddie signed a three-year contract with the Wizards during the 2021 offseason, he was coming off an ACL tear, so his deal included some protections related to playing time.
Since Dinwiddie appeared in more than 50 games last season, he earned his $1.5MM bonus in 2021/22 as well — as a result, it was considered likely to be earned in '22/23, so it's baked into his $20.17MM cap hit. Dinwiddie is now assured of making at least $19.5MM this season, via his $18MM base salary and $1.5MM games-played bonus — his deal also includes some likely and unlikely incentives related to how far the Mavericks advance in the playoffs.
As for next season, Dinwiddie's salary ($18.86MM base, $2.57MM in incentives) had previously only been partially guaranteed for $10MM. Now, his full base salary will be guaranteed and at least $1.5MM of his incentives will be considered likely.
The full guarantee for 2023/24 reduces the odds that Dinwiddie will be waived in the summer, but given the way he has played this season, that didn't really seem like a realistic outcome anyway.
The 29-year-old has been one of Dallas' most reliable role players alongside Luka Doncic, averaging 17.6 points and 5.4 assists per game on .464/.412/.823 shooting in 50 starts (34.2 MPG). Dinwiddie leads the Mavs in both games played and overall minutes (1,708).