FEBRUARY 28, 11:04am: James is expected to be reevaluated in two weeks to see how his injured right foot has progressed, according to ESPN's Adrian Wojnarowski (Twitter link). However, James could be out for longer than that.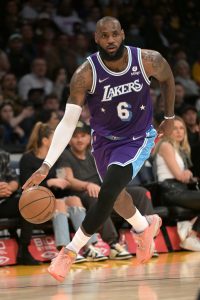 The Lakers' place in the standings in a couple weeks may be a factor in the decision on when it makes sense for LeBron to return, Woj adds.
---
FEBRUARY 27, 6:41pm: LeBron James could miss an extended period of time due to a right foot injury, Shams Charania of The Athletic reports. He'll get multiple medical opinions regarding the injury, but the Lakers are bracing for his absence to span multiple weeks, Charania adds (Twitter links).
James suffered the injury during Sunday's game against Dallas, in which the Lakers rallied from a 27-point deficit to pull out a 111-108 win. James played through the injury on Sunday but the team has already listed him as out for its game against Memphis on Tuesday, Jovan Buha of The Athletic notes (Twitter link).
James' absence could be a crushing blow to the Lakers' playoff hopes. They're currently 29-32 and 12th in the Western Conference standings.
James admitted after Sunday's game that he was hurting, Dave McMenamin of ESPN relays.
"It's been better," James said. "That's for sure. But I definitely wasn't going to go to the locker room and not finish the game out tonight. Just understood the importance of the game, and then with the momentum that we had, I felt like we could still win after being down. We'll monitor it the next couple days, see how it feels and go from there."
James, who has already missed 14 games this season, is averaging 29.5 points, 8.4 rebounds and 6.9 assists per night. He said during the All-Star break he was determined to play every game the rest of the season, eager to get back to the postseason after the Lakers failed to qualify last season.
Without James, the Lakers will have to rely more on newcomer Jarred Vanderbilt and Rui Hachimura, as well as Troy Brown Jr. and Lonnie Walker.