MARCH 28: The Nets are officially ruling out Simmons for the rest of the season and playoffs, Vaughn confirmed today (Twitter link via Alex Schiffer of The Athletic). Simmons will go through a rehab program for his back injury and is expected to make a full recovery, Vaughn added.
---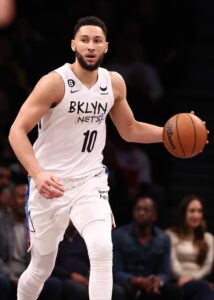 MARCH 25: The Nets are preparing for Ben Simmons to miss the remainder of the season, writes Tim Reynolds of The Associated Press.
Talking to reporters before Saturday's game, coach Jacque Vaughn admitted that Simmons is "probably not going to join us for the rest of the year," although he added that a final decision won't be made until Simmons meets with a back specialist. The former No. 1 overall pick is suffering from an impingement in his back, which happens when tissue or bone causes nerve fibers to compress.
"For me as a coach, there's some things that I can control, some things that I can't control," Vaughn said. "What I can't control is the impingement. What I can control is getting this group ready to play. And then in all honesty, the realism that he's probably not going to join us for the rest of the year … certainty will come once he continues to be looked at by specialists."
Simmons hasn't played since February 15 because of his back condition, along with soreness in his left knee. He has been limited to 42 games in his first full season with the Nets, averaging career lows of 6.9 points, 6.3 rebounds and 6.1 assists per contest. He's shooting 56.6% from the field, but has connected at just 43.9% from the foul line and has missed his only two three-point attempts.
Simmons didn't play at all last season because of physical and mental issues as well as a lingering dispute with the Sixers prior to being traded to Brooklyn. He will have a full offseason to try to regain the form that made him an All-Star in the previous three seasons.
Simmons has two years remaining on his contract at $37.9MM for next season and $40.3MM for 2024/25.