Knicks All-Star power forward Julius Randle will miss at least the next two weeks due to a left ankle sprain, the team has announced (Twitter link).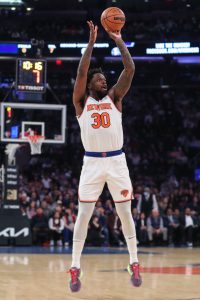 According to the Knicks, Randle will have the ankle reassessed in two weeks. That doesn't necessarily mean he'll be ready to hit the floor at that juncture, just that New York could have a better sense of his recovery timeline.
Randle injured the ankle during the second quarter of an eventual 101-92 victory over the Heat Wednesday.
Needless to say, this serves as an incredibly inopportune time for New York to be without perhaps its best player. That will knock him out for the team's final five games of the 2022/23 regular season. The NBA playoffs will begin two weeks from Saturday, on April 15.
At 44-33, New York is currently the fifth seed in the Eastern Conference. Tim Bontemps of ESPN observes that the Knicks are just two wins away from clinching their second postseason appearance in three seasons under head coach Tom Thibodeau. As Ian Begley of SNY.tv tweets, New York is 2.5 games ahead of the No. 6-seeded Nets, and four games in front of the seventh-seeded Heat, so the club is a good bet to avoid the play-in.
Prior to the ankle injury, Randle had not missed a single game this season. In his 77 appearances, the 6'8″ forward averaged 25.1 PPG on .459/.343/.757 shooting splits. He also chipped in 10.0 RPG, 4.1 APG and 0.6 SPG. Randle seems to stand a pretty good chance of landing on his second All-NBA team in three seasons thanks to his consistency, health and team record.
As the East's fifth seed, the Knicks are currently slated to square off against Cleveland in the first round of the playoffs. New York will face the Cavs, who have already clinched a playoff berth, on Friday.