The Kings have ended the longest active stretch of futility in pro sports. Light the beam.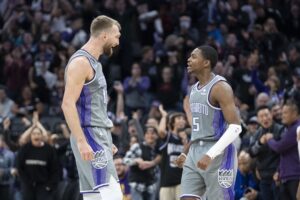 With Wednesday's road win over the Trail Blazers, the Western Conference's third seed has officially clinched its first playoff berth in 17 years, following 16 straight seasons in the lottery.
The victory improves Sacramento's season record to 46-30. The team still has a very realistic chance at achieving its first 50-win season since the 50-32 Kings hit that mark in 2004/05.
The '05/06 season marks the last time the Kings qualified for the playoffs. At 44-38, Sacramento was the eighth seed in the Western Conference under the stewardship of then-head coach Rick Adelman, who had led several of those Chris Webber-era teams so achingly close to the NBA Finals around the turn of the 21st century.
That year's Kings club was fronted on the floor by a few leftover players from those halcyon days, including point guard Mike Bibby and stretch forward Peja Stojakovic. Bibby led the team in scoring that season, at 21.1 points per game. Stojakovic (16.5 PPG, 5.3 RPG), forward Metta World Peace (16.9 PPG, 5.2 RPG, 4.2 APG, 2.0 SPG), and center Brad Miller (15.0 PPG, 7.8 RPG, 4.7 APG) served as the club's other leading scorers.
In 2006, that Sacramento club was vanquished in a six-game first-round series by the Spurs, the league's then-defending champs.
The 2022/23 Kings are fronted by the All-Star point guard De'Aaron Fox — the league's leading fourth quarter scorer — and All-Star center Domantas Sabonis, who are both enjoying career seasons for an elite offense. New head coach Mike Brown, fresh off winning his third title with the Warriors last summer as Golden State's associate head coach, is a leading candidate for 2023 Coach of the Year honors.
The Kings' 16 straight seasons out of the playoffs represented the longest streak in NBA history and the longest active playoff drought in any of the four major North American sports. Sacramento will pass that torch to the NFL's New York Jets and possibly the NHL's Buffalo Sabres — the Jets have missed the postseason for 12 straight seasons and the Sabres will be in the same boat if they don't make the playoffs this spring.
The longest active postseason drought in the NBA now belongs to the Hornets, who last made the playoffs in 2016.