In the wake of Austin Reaves' career night on Sunday, Jovan Buha of The Athletic reports that the Lakers and Reaves' camp have mutual interest in keeping the guard in Los Angeles beyond this season.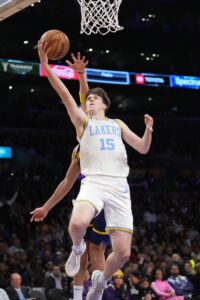 Because Reaves only received a two-year deal from the Lakers when he signed his first standard NBA contract in 2021, he won't become eligible to sign a contract extension before he reaches restricted free agency this summer. Additionally, the team will only hold his Early Bird rights at that time, rather than his full Bird rights.
As Buha notes, that means L.A. will be limited to offering Reaves approximately $51MM over four years if they negotiate with him directly. At one point, that would have looked like more than enough financial flexibility to bring back Reaves, but his strong play this season has increased his value. Shams Charania of The Athletic (Twitter video link) suggested today that the 24-year-old's market could be in that four-year, $50MM range, if not higher.
Reaves would have the ability to sign an offer sheet with a rival team that exceeds the Lakers' best offer. However, the Gilbert Arenas provision would apply to such an offer sheet, meaning it couldn't exceed the Early Bird amounts in years one or two but could include a substantial third-year raise. And despite only holding Reaves' Early Bird rights, the Lakers would have the ability to match such an offer via the Arenas provision.
As Buha observes, how Reaves performs down the stretch and possibly in the postseason will help determine how his free agency plays out. But the former Oklahoma Sooner has established himself as a reliable rotation player in his second NBA season, averaging 12.0 points, 3.0 rebounds, and 2.9 assists with an impressive .518/.380/.854 shooting line in 54 games (27.8 MPG).
For his part, Reaves doesn't sound like someone seeking change of scenery, having expressed gratification on Sunday for the opportunity to play for the Lakers.
"It's special," Reaves said after scoring 35 points in a victory over Orlando, per Buha. "I mean, I grew up a Lakers fan. To do it for this organization, especially, is surreal. Sometimes I gotta stop and really think about what I am doing. … All I'm really happy about is the win."