1:42pm: George has a sprained right knee and will be reevaluated in about two or three weeks, sources tell Adrian Wojnarowski of ESPN (Twitter link). The team has confirmed Wojnarowski's report.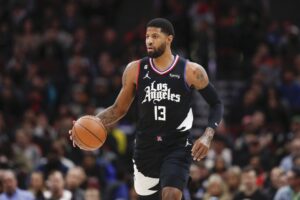 There are just two-and-a-half weeks left in the regular season, and Woj says (via Twitter) that George isn't expected to play in any of the Clippers' nine remaining games. Once he's reevaluated, his timeline for a potential postseason return will be clearer, Woj adds.
---
7:55am: Clippers forward Paul George suffered an apparent right leg injury during the fourth quarter of the team's loss to Oklahoma City on Tuesday and left Crypto.com Arena on a cart with his leg extended, according to Ohm Youngmisuk of ESPN.
It's not yet clear how significant George's injury might be. Head coach Tyronn Lue said after the game that he didn't have any immediate updates, adding that the 32-year-old was still being evaluated. However, it didn't look good in real time.
The injury occurred with about 4:40 left in the fourth quarter. After Shai Gilgeous-Alexander missed a jump shot, George and Thunder forward Luguentz Dort went up for the rebound and their legs appeared to collide. George landed awkwardly and fell to the floor in obvious pain (video link). He stayed down for several minutes, then required assistance to walk to the locker room.
It's unfortunate timing for George and the Clippers, who had been playing some of their best basketball of the season in recent weeks. Entering Tuesday's game, they'd won five of their last six contests and George had talked recently about feeling good physically after dealing with a right knee issue last month.
While the hope is that the injury will end up being a minor one, Clippers forward Nicolas Batum said the team will be prepared to continue its playoff push with or without the eight-time All-Star.
"We have players and Norm (Powell) is coming back pretty soon," Batum said. "We obviously miss our teammate, (but) we still got a good coach, good team. Of course, PG is a huge key for us. If we have to go through some time without him, we just have to go out there and win some games."