This is the sixth entry in our series breaking down the significant trades of the 2022/23 season. As opposed to giving out grades, this series explores why the teams were motivated to make the moves. Let's dive into a deal between the Suns and Thunder…
---
On February 9, the Thunder traded forward/center Darius Bazley to the Suns in exchange for forward/center Dario Saric, Phoenix's 2029 second-round pick and $1MM in cash.
The Thunder's perspective:
On the surface, this seems like a pretty minor trade that got lost in the shuffle a bit due to all the blockbusters leading up to the deadline. That said, I thought it was interesting for a number of different reasons.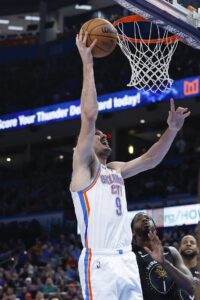 As our Luke Adams explains in our glossary entry on traded player exceptions, even though this seems like a straightforward one-for-one swap, this was actually a non-simultaneous deal for both the Thunder and the Suns, making it mutually beneficial.
A non-simultaneous deal means a team can trade away a single player without immediately taking salary back in return, allowing it to create an outstanding trade exception.
This deal showed the value of having a large ($10,183,800) outstanding traded player exception, which permitted the Thunder to take on Saric's $9,240,000 contract for "nothing." That also allowed them to generate a new TPE, worth $4,264,629, which is what Bazley is making this season.
The Suns created their own TPE because they only traded one player and took back less salary than they sent out. It's worth $4,975,371, which is the difference between Saric's salary and Bazley's. Both teams will have until next February to use their new TPEs.
There are plenty of examples of large TPEs not being used at all. Often that has to do with the team's proximity to the luxury tax and its willingness (or lack thereof) to pay a huge chunk of cash for what could amount to a rental player (many players involved in deadline deals are on expiring or pseudo-expiring contracts — both Saric and Bazley could hit free agency this summer, for example).
The Thunder were in the sweet spot of being over the cap but far enough below the luxury tax line that they could use their large TPE to create an additional asset of sorts to possibly create future value. It also netted them a second-round pick and a little cash, since the Suns were motivated to move off Saric's contract.
Cap aspects aside, when it was first announced, my first thought was to wonder if Saric might reach a buyout agreement or get waived, even though the Thunder were (and still are) in the play-in race. A handful of days after the deadline, it definitely sounded like he wasn't going to pursue a buyout, praising the organization and saying he was "open-minded" about his potential role.
However, a report late last month indicated that he nearly was waived as Oklahoma City sought flexibility with its last roster spot, instead choosing to release Eugene Omoruyi.
My second thought was, wait, did the Thunder just make an on-court upgrade and get draft capital back? That very rarely happens.
That's not to say the Thunder made a win-now move, far from it. The primary objective was landing the second-round pick and creating a new TPE. Saric is on an expiring contract and I'm sure the Thunder's front office wouldn't mind if they missed the postseason, though they haven't shown any signs of blatantly tanking to this point.
He may not be a household name, but Saric is an accomplished player, providing solid value with all three of his previous clubs (he started with Philadelphia and was traded to Minnesota in the Jimmy Butler deal back in '18/19). He holds career averages of 11.2 PPG, 5.6 RPG and 1.9 APG on .443/.360/.838 shooting in 402 games (217 starts, 24.0 MPG).
Saric missed all of last season while recovering from a torn ACL he suffered in Game 1 of the 2021 NBA Finals. He had a second surgery last May to repair a torn meniscus, making it an open question what his form would look like upon his return from two major knee surgeries.
He (understandably) had a very slow start to 2022/23, only appearing in 22 of Phoenix's first 41 games with averages of 3.8 PPG and 2.8 RPG on .358/.351/.857 shooting in 11.6 MPG. That's why I said his free agent stock was trending down when I wrote about him in January.
However, he was a rotation fixture in the 15 games (seven starts, 18.5 MPG) leading up to the deadline, averaging 8.8 PPG, 5.4 RPG and 2.3 APG on .485/.438/.800 shooting. Saric's solid play has continued post-trade, as he's averaging 10.1 PPG and 3.7 RPG on a scorching hot .627/.458/.889 shooting line through nine games with the Thunder (14.9 MPG).
The 28-year-old has an excellent feel for the game, using his high basketball IQ to overcome his relative lack of athleticism. He is a below-the-rim finisher, but has good touch and lots of tricks around the basket – he's shooting 67.1% at the rim this season, which ranks in the 71st percentile, per DunksAndThrees.com.
The Thunder run a five-out offense where every player on the court is capable of dribbling, passing, screening and shooting. All of those are strengths of Saric's.
He isn't a great defensive player at either frontcourt position, and he's undersized against some centers (he's listed at 6'10" and 225 pounds). That said, he's generally in the right spots, he just lacks the foot speed to stick on the perimeter and the length to protect the paint.
Oklahoma City has had a ton of draft picks over the past few years, and still has loads more in the future. Bazley was one that didn't work out.
The No. 23 overall pick of the 2019 draft, Bazley entered the NBA as an excellent athlete with raw skills. He turned into a solid defensive player, but struggled mightily offensively.
I gained a newfound respect for Bazley as a person after I saw a video of him talking about his diminished playing time this season (he only appeared in 36 of 54 games for an average of 15.4 MPG). His team-first attitude and self-awareness were admirable.
While Bazley is certainly young and talented enough that he could develop elsewhere, he was viewed as unlikely to be in the Thunder's long-term plans even if they had kept him through the deadline. The harsh reality is trades are part of the business.
The Suns' perspective:
Phoenix's primary, secondary and tertiary reasons for making this deal were financial. As Luke Adams details in our glossary entry, the NBA's luxury tax is set up so that the penalties become increasingly punitive the further teams go beyond the tax line.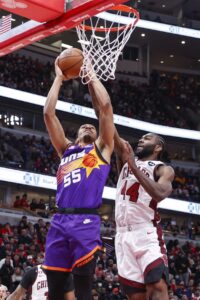 Trading Saric for Bazley saved the Suns approximately $20MM toward their estimated luxury tax payment. According to Eric Pincus of Sports Business Classroom, the Suns are currently $22,249,841 over the tax with an estimated luxury tax bill of $53,436,904. And that's after this trade was made.
Saric started to pick up steam prior to the deadline, was a key contributor to the team's culture, and played a role in its run to the Finals a couple years ago. Would he have provided $20MM worth of value for the remainder of this season? In the most optimistic scenarios, maybe? But probably not.
Trading for Kevin Durant means there won't be many minutes at power forward in the playoffs. Ditto at center behind Deandre Ayton. The Suns still have several options to explore backing up those frontcourt spots, including Torrey Craig, T.J. Warren, Ish Wainright, Jock Landale, Bismack Biyombo and Bazley.
Maybe the Suns like Bazley as a defender and believe he has untapped upside on offense. He's still just 22 years old. But he had also only appeared in one of a possible seven games (for seven minutes) entering Wednesday's matchup with his former team.
In all likelihood, Bazley's role will be minor going forward. As a championship hopeful, the Suns can't really afford to play him when it counts, because opposing teams dare him to shoot and he's only converting 50% at the rim, which is in the sixth percentile of all players, per DunksAndThrees.
Given Phoenix's cap situation going forward, plus its window of contention and where Bazley is at in his development, the odds of him receiving a qualifying offer to become a restricted free agent seem slim. If that scenario plays out, he would instead become an unrestricted free agent in the offseason.
The $4,975,371 TPE the Suns created as part of the deal could be used to acquire a player who makes more than the minimum at some point in the future. Losing one second-round pick several years down the line isn't a big deal, as a few are typically up for sale in every draft.
How far the Suns go in the postseason will ultimately be determined by their star players' health. Obviously, Durant suffering an ankle sprain just three games after returning from a knee injury isn't ideal, but they've still been on a roll lately, winning 16 of their past 21 games.
The Suns are betting they have enough depth behind Durant and Ayton that losing Saric won't come back to bite them – a reasonable position, particularly considering how much money they saved by moving him.