Grizzlies forward Jaren Jackson Jr. has been named the league's Defensive Player of the Year, the NBA on TNT tweets. Jackson received 56 of the 100 first-place votes, according to an NBA press release.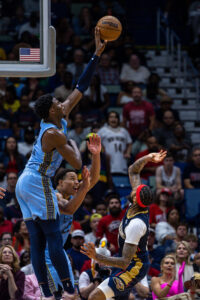 The Bucks' Brook Lopez and Cavaliers' Evan Mobley were the other finalists. Lopez was the runner-up, notching 31 first-place votes while Mobley received eight. Draymond Green (3) and Bam Adebayo (1) also received first-place votes and finished fourth and fifth, respectively.
Joel Embiid claimed the final first-place vote, though the Sixers star finished ninth overall, behind Giannis Antetokounmpo, OG Anunoby, and Jrue Holiday. Nic Claxton, Alex Caruso, and Jimmy Butler also appeared on at least one ballot.
Jackson led the NBA in blocks per game (3.0) and also averaged one steal in 63 regular-season appearances for the Western Conference's No. 2 seed. He had a career-best 2.0 Defensive Box Plus/Minus rating and a 3.8 Defensive Win Shares rating, ranking him among the top 10 in the league in both categories.
Lopez averaged a career-high 2.5 blocks while serving as the defensive anchor for the Eastern Conference's top seed. His total of 193 blocks in 78 games led the league during the regular season.
Mobley averaged 1.5 blocks per game and, along with Jarrett Allen, anchored a defense that limited opponents to a NBA-low 106.9 points per game.
The Celtics' Marcus Smart scored a rare victory for a guard when he won the award last season. Rudy Gobert won it as a member of the Jazz three of the previous four years. Antetokounmpo won it during the pandemic-shortened 2019/20 season.
Among active players, Green (2016/17 season) and Kawhi Leonard (2014/15 and 2015/16) have also earned the honor.