Jazz forward Lauri Markkanen has won the NBA's Most Improved Player award, the league announced.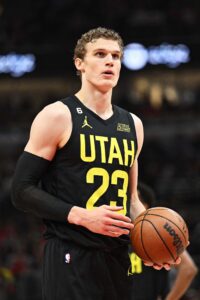 In his sixth season, Markkanen thrived in an expanded role after being included in the Donovan Mitchell blockbuster deal between Utah and Cleveland. Markkanen averaged 25.6 points per game on 49.9% shooting and 1.9 assists per game, all career highs. He also shot 87.5% from the free throw line and snared 8.6 rebounds per contest in 66 starts and received a start in the All-Star Game.
Last season, Markkanen averaged 14.8 PPG on 44.5% shooting, 5.7 RPG and 1.3 APG in 61 starts with the Cavaliers. Prior to this season, Markkanen's career high in scoring average was 18.7 PPG during his second of four seasons with Chicago.
Markkanen topped the other finalists, the Thunder's Shai Gilgeous-Alexander and the Knicks' Jalen Brunson, for the award. Markkanen received 69 of the 100 first-place votes and 430 points. Gilgeous-Alexander wound up second with 24 first-place votes and 289 points. Brunson was a distant third with four first-place votes and 91 points.
Gilgeous-Alexander finished fourth in the league in scoring (31.4 PPG) as the Thunder made the play-in tournament. During his All-Star season, Gilgeous-Alexander shot 51% from the field and 90.5% from the foul line. He also averaged 4.8 rebounds and 5.5 assists in his fifth NBA season. He averaged 24.5 points last season.
Brunson lifted the Knicks into the playoffs with a stellar season after leaving the Mavericks as a free agent. In his fifth season, he averaged 24.0 points and 6.2 assists per night while making 41.6% of his 3-point attempts, posting career bests in each category. Last season, he averaged 16.3 PPG and 4.8 APG.
Mikal Bridges, Tyrese Haliburton and Trey Murphy III each picked up one first-place vote, finishing fourth, sixth, and seventh, respectively.
Fifth-place finisher Nic Claxton, Kevon Looney, De'Aaron Fox, Austin Reaves, Jaren Jackson Jr., Aaron Gordon, and Malik Monk all received at least one vote.