If and when Miles Bridges signs his next contract, he'll be required to serve a 10-game suspension before he suits up again, the NBA announced today in a press release (Twitter link).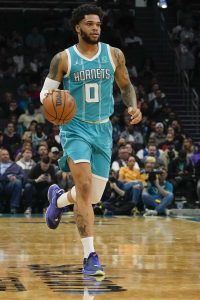 The suspension is the result of a domestic violence incident that occurred in June 2022. Bridges, who was on track to be one of the top free agents in the class of '22, was arrested and charged with felony domestic abuse just days before his rookie contract expired. He was accused of assaulting his then-girlfriend in front of their two children.
Bridges eventually worked out a plea deal with prosecutors in Los Angeles County in the fall, agreeing to plead no contest to one charge of felony domestic violence while two child abuse counts were dismissed. The 25-year-old avoided jail time by accepting three years of probation. He was ordered to attend a year's worth of domestic violence counseling sessions and parenting classes in addition to completing 100 hours of community service.
The NBA conducted its own investigation into the incident, reviewing "all available matters and interviewing numerous third-party witnesses, as well as the parties involved," the league said in today's statement. NBA investigators also consulted with a group of domestic violence experts as part of the process.
Having concluded its probe, the league technically classifies its penalty for Bridges as a 30-game suspension. However, the NBA will consider the forward to have already served 20 of those games, since he remained unsigned for the entire 2022/23 season due to his legal situation. Typically, players can't begin serving suspensions until they're under contract.
Bridges received a qualifying offer from the Hornets last summer, making him a restricted free agent, and he'll be restricted again this offseason if Charlotte reissues that QO (which was worth roughly $7.9MM).
A report in December suggested the Hornets and Bridges were making some progress in negotiations on a new contract, but the team issued a statement in January denying that claim. President of basketball operations Mitch Kupchak has since spoken multiple times about waiting for the NBA to conclude its investigation before taking any next steps.