1:23pm: The Wolves officially confirmed Gobert's one-game suspension in a press release.
---
12:36pm: Rudy Gobert isn't traveling with the Timberwolves and will not compete in the play-in game against the Lakers on Tuesday after receiving a one-game suspension, reports Adrian Wojnarowski of ESPN (Twitter links).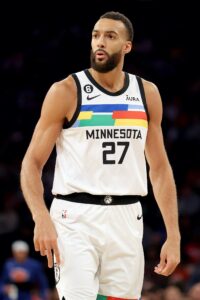 Gobert is expected to return for the following game(s), whether that's another play-in contest or a first-round playoff series, Wojnarowski adds.
According to Jon Krawczynski of The Athletic (Twitter link), the Wolves decided to suspend Gobert after reviewing his altercation with Kyle Anderson on Sunday, when Gobert took a swing at his frontcourt teammate. The two players continued to argue at halftime, with Gobert ultimately getting sent home by the team.
The three-time Defensive Player of the Year was experiencing back spasms that hindered his mobility, but was pushed to play yesterday due to the importance of the game. Reports indicated that Anderson profanely told Gobert to play better defense, which evidently caused Gobert to punch Anderson in the left shoulder/chest area. The veteran center subsequently privately and publicly apologized, but obviously the team didn't take his actions lightly.
The Wolves will also be without Jaden McDaniels for the rest of the season after he broke his hand punching a wall. The third-year forward was frustrated after picking up two early fouls. Backup center Naz Reid is expected to miss several weeks as well following wrist surgery to repair a fracture.
Despite being down two starters for the majority of the game, Minnesota wound up defeating New Orleans in a close, back-and-forth game. The victory clinched the No. 8 seed entering the play-in tournament for the Wolves, while the Pelicans fell to No. 9.
The winner of the Lakers/Wolves matchup will advance as the No. 7 seed and play Memphis in the first round. The loser will play the winner of Wednesday's Pelicans/Thunder matchup on Friday for a chance at the No. 8 seed.