The Warriors will be getting one of their top players back to start the postseason, according to Shams Charania and Anthony Slater of The Athletic (Twitter link), who report that Andrew Wiggins has been cleared for Game 1 against the Kings on Saturday.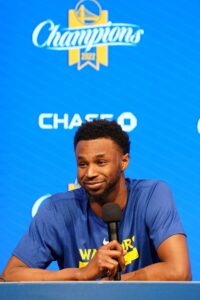 Charania says the Warriors are "leaning toward" having the 28-year-old come off the bench initially, and he's expected to play in the range of 20-25 minutes. As Slater notes (via Twitter), Golden State took a similar approach with Stephen Curry when the playoffs started last season after he had missed the last month of the 2021/22 regular season due to injury.
Both Curry and head coach Steve Kerr have said that Wiggins "looked good" in 5-on-5 scrimmages over the past week. Kerr told reporters on Thursday that he wasn't sure if Wiggins would be on a minutes restriction.
"On one hand, Wiggs is one of those guys who doesn't seem to fall out of shape … on the other hand he hasn't played in 10 weeks," Kerr said (Twitter link via ESPN's Kendra Andrews).
The veteran forward last played on February 13, missing the final 25 games of the regular season due to a personal matter. Wiggins wound up playing a career-low 37 games (32.2 MPG) in '22/23, averaging 17.1 PPG, 5.0 RPG, 2.3 APG and 1.2 SPG on .473/.396/.611 shooting.
A former No. 1 overall pick, Wiggins was pivotal during last year's championship run and figures to be a major player in the Warriors' chances to defend their title.