Timberwolves forward Jaden McDaniels has sustained fractures of the third and fourth metacarpals of his right hand, the team announced in a press release.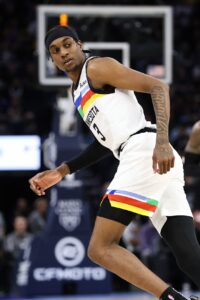 According to the Wolves, the third-year small forward has been placed in a cast and is out indefinitely.
While Minnesota didn't provide a recovery timeline, Jeff Stotts of InStreetClothes.com notes (via Twitter) that Pistons big man Marvin Bagley III sustained a similar injury in 2022/23 and missed 19 games and 54 days after undergoing surgery (20 total games). Based on that rough timeline, the Wolves will have to make a very deep postseason run for McDaniels to have a chance to return — the NBA Finals tip off on June 1.
The 22-year-old broke his hand on Sunday when he punched a wall in the arena tunnel out of frustration after picking up a couple early fouls. Sources tell Jon Krawczynski of The Athletic (Twitter link) that McDaniels apologized to the team and took responsibility for his error in judgment. Krawczynski points out that McDaniels went down a tunnel that was covered in a plastic curtain and was unaware of the concrete wall behind it.
McDaniels is the team's top wing defender and had his best offensive season to date, averaging 12.1 PPG, 3.9 RPG, 1.9 APG, 0.9 SPG and 1.0 BPG on .517/.398/.736 shooting in 79 games, all starts (30.6 MPG). He will eligible for a rookie scale extension this summer.
In other Minnesota health news, guard Jaylen Nowell is trending in a positive direction for Tuesday's play-in game against the Lakers, reports Darren Wolfson of 5 Eyewitness News and SkorNorth (Twitter link). Nowell has missed 17 of the past 20 games due to left knee tendinopathy.