When the Nets landed Kevin Durant and Kyrie Irving in free agency in 2019, it represented a major step in the club's transition from plucky upstart to star-studded super-team, a transformation that was completed with the 2021 acquisition of James Harden.
Two years after landing Harden, Brooklyn is out of the super-team business, having traded away Harden in 2022 and Durant and Irving in 2023. The new-look Nets bear some resemblance to the pre-2019 squad — there are a lot of promising pieces on the roster, but little star power, so the upside is limited.
Among Brooklyn's current players, there are two obvious ceiling raisers whose next steps could go a long way to determining the club's trajectory. Mikal Bridges, acquired from Phoenix in February's Durant blockbuster, averaged 26.1 points per game after joining the Nets and has an All-Defensive nod on his résumé. If anyone on the roster is going to be an All-Star next season, it will likely be Bridges.
Of course, the only player on the roster who has already been an All-Star – three times, in fact – is former No. 1 overall pick Ben Simmons, who had a forgettable first full season in Brooklyn. Physical and mental issues, along with an aversion to shooting, have hampered Simmons' development, but he was one of the NBA's best passers and defenders while earning three consecutive All-Star berths from 2019-21. The hope is that there's still some bounce-back potential in 2023/24, when he'll be another year removed from 2022 back surgery.
Even if Bridges continues to establish himself as a franchise cornerstone and Simmons looks more like his old self next season, the Nets won't be a legitimate championship contender like they were when Durant, Irving, and Harden played for the team.
But there are solid building blocks in place here, and the vibes in Brooklyn this offseason should be a little more positive than they were a year ago, when Durant asked team ownership to either move him or fire GM Sean Marks and head coach Steve Nash, while Irving spent weeks flirting with the idea of leaving the Nets in free agency or via trade.
---
The Nets' Offseason Plan: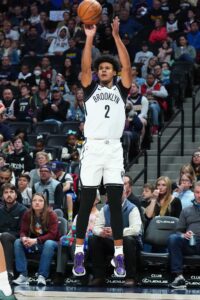 Re-signing Cameron Johnson in restricted free agency will likely be the Nets' top priority this offseason. Bridges was the centerpiece of the Durant trade, and some of the future unprotected first-round picks in that deal could become future gems, but Johnson shouldn't be overlooked as a crucial part of Brooklyn's return from the Suns. He's already one of the NBA's best outside shooters, making 41.6% of 6.0 three-pointers per game over the last two seasons, and he's not a liability on the defensive end.
Johnson won't come cheap, but the knee injury that cost him half the 2022/23 season may help keep his price in check, especially if none of the teams with cap room this summer make a serious push for him. Even though Johnson isn't the two-way dynamo that Bridges is, the Nets should be happy if they can lock up Johnson to a contract identical to Bridges' rookie scale extension (four years, $90MM). It should age well as the salary cap continues to grow in the coming years.
If the Nets commit to paying Johnson approximately $20MM in 2023/24 and guarantee the remainder of Royce O'Neale's $9.5MM salary (which is a lock), their team salary will exceed the projected luxury tax line.
Nets owner Joe Tsai has shown in recent years that he's willing to spend big, but he'll be less inclined to pay the tax for this roster than he was for the version headed by Durant, Irving, and Harden, especially with more punitive penalties for taxpaying teams coming in the new Collective Bargaining Agreement.
Simmons, whose $37.9MM salary will be the largest on the payroll by a wide margin, is Brooklyn's most obvious trade candidate, but moving him this offseason probably isn't the right play. His value has cratered, so the Nets would be selling low and would almost certainly have to attach draft picks and/or a more valuable player to get anything useful in return for him. Hanging onto Simmons and hoping that he's healthier and more productive next season is the more prudent path.
In all likelihood, at least one of Brooklyn's veteran wings will be on the move. Joe Harris ($19.9MM), Dorian Finney-Smith ($13.9MM), and O'Neale ($9.5MM) are part of that group. Of those three, Harris is the most expensive and the weakest defender, so he'll likely find himself on the trade block. But the Nets would get more in return for Finney-Smith or O'Neale, and losing Harris' shooting and floor spacing could hurt, with Seth Curry headed for free agency.
In theory, the Nets would like to add more scoring and play-making, as well as more size and rebounding up front, but it's unclear whether they'll be able to address those needs directly in a trade involving one or more of their wings. The front office will likely explore many possibilities on the trade market, including three-way frameworks or scenarios in which they flip assets from one trade partner to another in separate deals.
A cost-cutting Brooklyn team with quality rotation players available would, for instance, be a logical trade partner for a Houston club that has cap space and is eager to be more competitive in 2023/24. Perhaps the Nets could dangle O'Neale in an effort to recoup one of the first-round picks they previously traded to the Rockets, then turn around and package a draft pick or two with another player (such as Harris, Spencer Dinwiddie, or Patty Mills) in an effort to better balance their roster.
While free agency is another path Brooklyn could look at as it seeks roster upgrades, the team will be well over the cap, and its ability to use its mid-level exception will be compromised as long as its salary remains above or near the tax line. I'd expect the Nets to push to re-sign Johnson and explore what it would take to bring back Curry (especially if Harris is traded), but I wouldn't count on an impact signing of an outside free agent.
There may be some advocates for the Nets, having traded Durant and Irving earlier this year, to take another step toward a full rebuild by moving more veterans and perhaps securing a huge package of picks and prospects for Bridges. But Brooklyn doesn't control its own first-round pick for any of the four years from 2024-27 — the Rockets will receive the Nets' unprotected pick in 2024 and 2026 and have swap rights in '25 and '27. So there's little incentive for the franchise to bottom out.
Instead, I'd expect general manager Sean Marks to focus on making a few tweaks to the roster this offseason, then to prepare for more significant changes in 2024 when several contracts (including Dinwiddie, Harris, O'Neale, and Mills) will come off the books.
---
Salary Cap Situation
Guaranteed Salary
Ben Simmons ($37,893,408)
Mikal Bridges ($21,700,000)
Spencer Dinwiddie ($20,357,143)
Joe Harris ($19,928,571)
Dorian Finney-Smith ($13,932,008)
Nic Claxton ($9,625,000)
Patty Mills ($6,802,950)
Royce O'Neale ($2,500,000)

Note: Partial guarantee. Rest of salary noted below.

Cam Thomas ($2,240,160)
Day'Ron Sharpe ($2,210,040)
RaiQuan Gray (two-way)
Total: $137,189,280

Dead/Retained Salary
Player Options
Team Options
Non-Guaranteed Salary
Royce O'Neale ($7,000,000)

Note: Partial guarantee. O'Neale's salary would become fully guaranteed if he's not waived on or before July 10.

Edmond Sumner ($2,239,943)

Note: Sumner's salary would become fully guaranteed if he's not waived on or before July 6.

Total: $9,239,943
Restricted Free Agents
Cameron Johnson ($8,486,620 qualifying offer / $17,663,697 cap hold): Bird rights
David Duke ($2,189,698 qualifying offer / $2,189,698 cap hold): Early Bird rights
Total (cap holds): $19,853,395
Two-Way Free Agents
Draft Picks
No. 21 overall ($3,043,560)
No. 22 overall (2,922,000)
No. 51 overall (no cap hold)
Total: $5,965,560
Extension-Eligible Players
Seth Curry (veteran)
Spencer Dinwiddie (veteran)
Joe Harris (veteran)
Royce O'Neale (veteran)
Ben Simmons (veteran)
Note: These are players who are either already eligible for an extension or will become eligible before the 2023/24 season begins. Curry is only eligible until June 30.

Unrestricted Free Agents / Other Cap Holds
Seth Curry ($16,143,641 cap hold): Bird rights
Nikola Milutinov ($2,499,480 cap hold)

Note: Milutinov, the 26th overall pick in the 2015 draft, has yet to sign an NBA contract. If the Nets don't intend to sign him in 2023/24, they'll remove his cap hold from their books for the season.

Yuta Watanabe ($1,989,698 cap hold): Non-Bird rights
LaMarcus Aldridge ($1,989,698 cap hold): Early Bird rights
Wilson Chandler ($1,989,698 cap hold): Non-Bird rights
Mike James ($1,989,698 cap hold): Non-Bird rights
Total: $26,601,913
Note: The cap holds for Aldridge, Chandler, and James remain on the Nets' books from prior seasons because they haven't been renounced. They can't be used in a sign-and-trade deal.
Cap Exceptions Available
Mid-level exception: $12,220,600
Bi-annual exception: $4,448,000
Trade exception: $18,131,946
Trade exception: $4,494,702
Trade exception: $1,836,090
Trade exception: $1,836,090
Trade exception: $1,637,966
Note: The Nets would lose access to the full mid-level exception and the bi-annual exception if their team salary surpasses the tax apron.