Bucks guard Jrue Holiday has been voted the 2022/23 Twyman-Stokes Teammate of the Year, the NBA announced in a press release. A panel of league executives select the 12 finalists (six from each conference) for the award, while current players vote on the winner.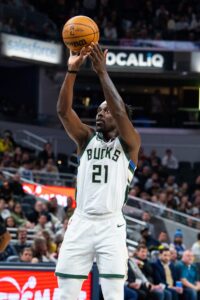 The award "recognizes the player deemed the best teammate based on selfless play, on- and off-court leadership as a mentor and a role model to other players, and commitment and dedication to team," per the NBA.
Here are the 12 finalists, listed in order of their total points received (players received 10 points for a first place vote, seven for second, five for third, three for fourth, and one point for fifth place):
It's the second straight Teammate of the Year award for Holiday, and third in the past four seasons. Lillard won in '20/21. The only other active player to have won the award is Minnesota guard Mike Conley, who took it home in '18/19 with Memphis. The award was introduced in '12/13.